Having heard a lot about Ariyasom's Na Aroon restaurant from a few of our vegetarian friends, we decided to head there last Friday evening.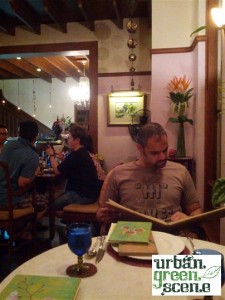 Located at the end of Sukhumvit Soi 1, Ariyasom Villa is a traditional Thai style house built in the 1940s, with lush leafy green surroundings. The house has a beautiful history which you can read all about on their website. The Na Aroon restaurant is on the ground floor of the Villa, with teak wood floors, high ceilings and traditional open air Thai style design. The food at Na Aroon is supposed to be healthy, tasty and organic. They serve only vegetarian food and sea food. Strictly no meat.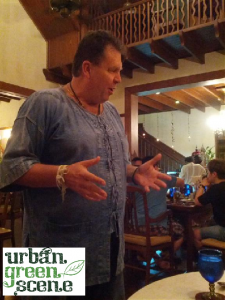 I was instantly charmed as we took our seat next to the window. While we were perusing the menu, the jovial owner approached us and introduced himself as David Lees from Manchester, England. He suggested that while the menu has both Thai and Western dishes, that because it was our first time, that we stick to their Thai menu as they are the kitchen's specialty. Their menu is extensive and much to my happiness all items in the menu were clearly labelled with a (V) for vegetarian and (NV) for non vegetarian.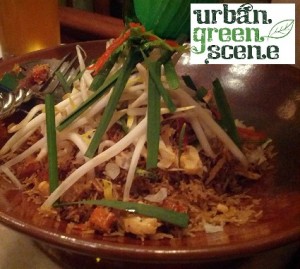 David's personal favourite dishes are Mee Grob (caramelised crispy rice noodles) & Kaeng Khiew Waan (green curry). Following his suggestion we ordered his favourites, plus Larb Thod (deep fried spicy tuna ball) and Phad Thai Malakor (phad thai papaya) which I was most interested to try. We also ordered a steamed sea bass dish as we wanted to try their seafood.
As David was still happily chatting to us, I wanted to know more about how his restaurant is organic so I asked David where he gets his fresh produce from. He told me that Na Aroon gets most of their produce from the Royal Project. A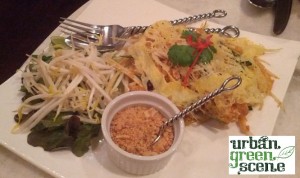 s far as I know, and having checked for certification on their website and in their publications, the Royal Project fresh produce is not certified organic. As such Ariyasom cannot claim that they use organic produce. To be precise they should say they use vegetables from the Royal Project. I then asked him about his seafood and whether it is from a sustainable source. He didn't seem to know much about sustainable seafood so I dropped the subject. They have salmon on their menu which had no description of source. Usually restaurants that have sustainable seafood will clearly point it out as it is more expensive and also shows the restaurant's commitment to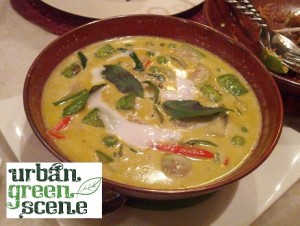 sustainability.
The food arrived and it was delicious. My personal favourite was the Phad Thai Malakor (phad thai papaya). I am so used to regular Phad Thai that I was a bit scared with my first bite. But it is amazing, and much lighter than the noodle version! My husband enjoyed the steamed sea bass. It was really yummy! The Mee Grob was also very good as David has described. However, there were little bits of red in the dish which I couldn't identify, at first I thought they had put goji berries and got excited, but after asking the waiter, found out that it was mock pork! I didn't realise they used mock pork in the dish as it wasn't written on the menu.  I don't really like mock meat, so was surprised to find it in there. Was the food healthy as per the description of the restaurant? Not particularly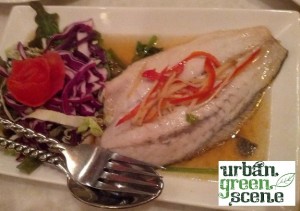 . The green curry was very thick and creamy, and most of our other dishes were deep fried. The healthiest dish we had was the steamed sea bass with ginger. But all were yummy!
Finally it was time for desert! My husband loves Rhubarb and so was excited to hear that the special desert of the day was a Rhubarb crumble.
The lovely waitress expl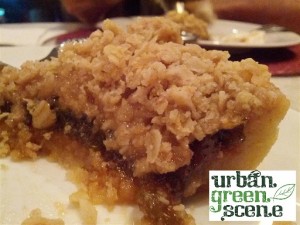 ained that rhubarb is in season. When I asked her where the rhubarb was from, she wasn't quite sure. I wish I had asked David, as I haven't seen locally grown rhubarb around in ages. Unfortunately, when the desert arrived, our high expectations crumbled! It was so sweet, we couldn't taste the rhubarb. And the rhubarb was overcooked to the point where we couldn't tell it was rhubarb. I should have tried the Thai desert! Ah well there is always a next time.
Our total bill for dinner and two alcoholic drinks for the two of us was about 2000 Baht including 7% VAT and 10% Service Charge. It is what we expected for a restaurant in a boutique hotel. Service was excellent. Staff were very helpful and the hostess and owner both made us feel very welcome.
In short, Ariyasom's Na Aroon is the perfect place for a romantic meal. As the owner suggests, order their Thai dishes as they are their forté! I enjoyed the food. We will be taking our vegetarian friends back to this beautiful place as long as the owners are not too upset at my review!  I am a green critic, so as such this review does focus more on the organic and sustainable aspects of this restaurant.
Green Rating: 3/5 on the green-o-meter. Eating and promoting vegetarian food is indeed quite green which Ariyasom does very well. Their vegetarian menu is extensive and their Thai food is delicious. However, Na Aroon has room for improvement in the green arena. Certified organic produce and sustainable seafood would be a welcome addition to their already successfully established restaurant and delicious menu.
Na Aroon | Ariyasom Villa, 65 Sukhumvit Soi 1, Sukhumvit Rd | Ph: +662-254 8880-3 | $$$