I found out ab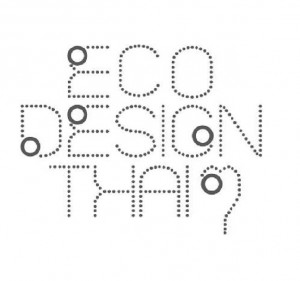 out Eco Design Fair through a wonderful facebook page called Eco Design Thai Thai that suddenly started appearing in my feed and decided to venture along and check out the local eco product scape.
The driving force behind the fair is Mr. "Top" Pipat Piruktanakorn who owns my favourite eco shop in Bangkok Eco Shop by Top Pipat. For those of you who haven't been, his store in Siam Square's Digital Gateway Mall, stocks eco design products from about 30 local brands. Top and his eco designer friends launched Eco Design Thai Thai to get the word out on environmentally friendly designers based in Thailand.
The Eco Design Thai fair took place at Bitec Bangna from the 27th of June to the 30th of June 2013 as part of the Baan Lae Suan mid year fair. The fair featured Thai designed products that are environmentally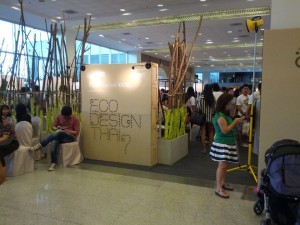 friendly. The goal of the fair was to promote and create opportunity for local designers and their products and also to allow this community of designers as well as other interested folk to network, exchange ideas and form an eco design community. As the eco design community is so small, the group also wanted to introduce their designs to a wider audience and encourage sales of these environmentally friendly products.
As soon as we arrived at the fair, we were pleasantly surprised by the buzz of all the interested eco enthusiasts.
Natural Niche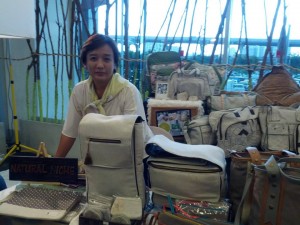 The first stall we came across was Natural Niche. They had a great selection of bags and pouches made from local linen and other local natural fibres. The lovely lady behind the counter explained that their primary business was making custom curtains for people's homes but because they were very interested in creating products from local fibres that are locally woven and manufactured, the company created this line of simple and functional bags. Their bags are stocked at my favourite eco design store Eco Shop by Top Pipat.
Conceptree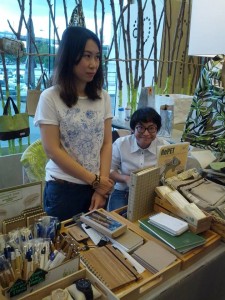 The next stall was one of the first eco designers I came across in Bangkok, Conceptree. I love their stuff! They have a beautifully designed line of stationary and office and personal use products. Their eco friendly products are made from sustainable materials including organic cotton and bamboo and also recycled PET. From their PET rucksack to their Bamboo pens and memory sticks. My personal favourite is their Dynamo calculator which works after you shake it for 20 seconds. They also have a Dynamo torch, solar powered radio, solar powered torch and so many more cool items. Great design and best of all made with eco materials. Some of their products are stocked at  Eco Shop by Top Pipat. Their head office is based in Sukhumvit 59.
Osisu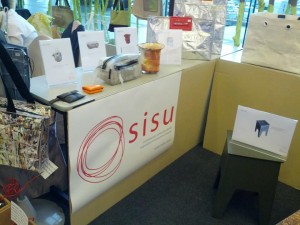 The thing that upset me most about Osisu's stall was there was no one manning it. I asked neighbouring stalls about the items for show and they informed me that nothing was for sale, just for display and no one their to curate their products.
But, their products are amazing. Osisu's funky handbags are made of shredded paper, their eyeglass cases from coffee sachets and their business-card holders from condom packets. Their products are for sale at Eco Shop by Top Pipat as well as Propoganda, Scrap Shop and Green Thai Product. Wish I could've bought something at the fair….alas!
Deesawat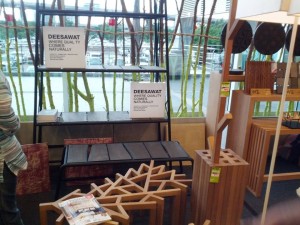 Deesawat was manned a sweet lady. But she didn't seem to know much about the eco design of the products on display. Nevertheless, some beautifully designed products.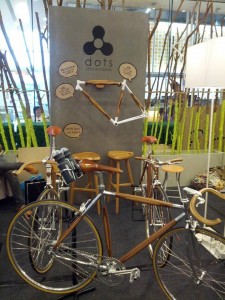 Dots Design Studio
They had a lovely display of beautifully designed bicycles made of plywood and metals, bicycle racks and stools! Dots Design Studio is a team of 3 talented designers, Krit, Kawin and Theerasak. Designer Krit Phutphim was manning the stall himself. Extremely lovely guy. If you are looking for a beautifully crafted bicycle, this is definitely the place to go! Their team also does interior design and has an extensive portfolio spanning many countries.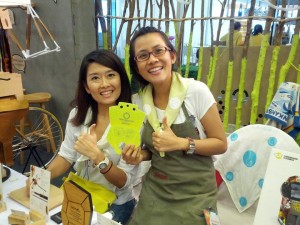 Eco Shop by Top Pipat
These two ladies were uber enthusiastic to show off their cool eco design wares from Eco Shop by Top Pipat. I bought a rear bicycle reflector made from biodegradable Polypropylene. They were passionate about their products and so happy to explain each item. Highly recommend a visit to the Eco Shop by Top Pipat in Siam Square. They stock most of the eco designers featured in this fair.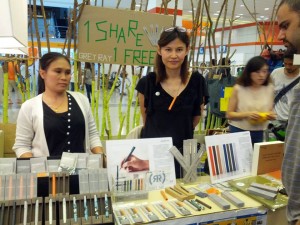 Grey Ray
The perfect line of products for architects, interior designers, artists, anyone who likes to use pencils. They had pencil extenders, pencil caps, sketch books and many other groovy design items. Grey Ray's stationery is simple and elegant.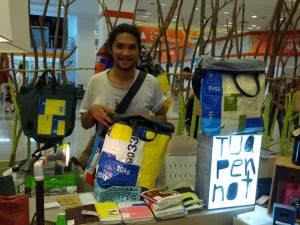 Tua Pen Not
Tua Pen Not's handbags are fashioned by hand from rice sacks and fertiliser and flour bags, padded with scrap fabric and recycled zippers. The designer and artist K. Pichakorn Chukiew is the smiling man in the picture. He says that, what people think of as waste, for him are his raw materials. He is very passionate about his products and everything he produces is unique.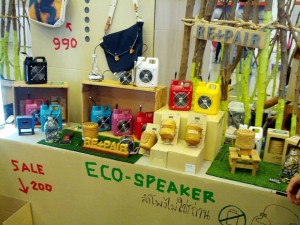 RE+Pair
The designer behind RE+Pair is quirky 23 year old, Chatporn Ninthummachart whose innovations are truly quirky and inspiring. She was manning the stall herself and was more than happy to explain all her creative products. Chatporn's family run a spa business through which she has access to countless plastic oil containers. With her innovative design, these containers have gained new life as portable speakers for iPods and MP3 players. They are light and no battery is required as they run off the iPod's own supply. Plug and play great music. Perfect for those trips to the beach and park. You can see them in the picture in yellow, red, blue and purple. They are super cool! She has also designed an eco-speaker from sticky rice bamboo baskets. Chatporn also collaborated with the makers of Tathata canvas bags on a limited edition bag made of discarde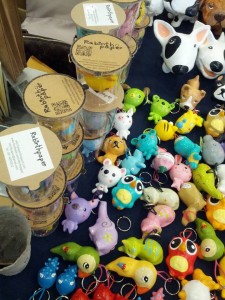 d vinyl boards. Her products are for sale at Eco Shop by Top Pipat as well as Green Thai Product.
Rebirth Paper
Cute paper mache animals made from recycled paper.  I tried to ask the people manning the stall what paints and varnishes were used, but they didn't know. So not sure if they are eco-friendly in terms of what goes on top of the paper mache. Nevertheless cute. You can find Rebirth Paper products at the Eco Shop by Top Pipat.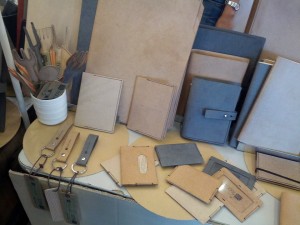 Labrador
One of my favourite designers, Labrador was at the fair too. With a minimalist approach to design, durability and functionality are the brand's philosophy. Their Relabrador line of products is made from recycled leather compressed into paper-thin sheets. I bought a name card holder and love it. They also have products made of new leather, but they have reduced the bleaching process to be more environmentally friendly. They also offer lifetime repairs for all their goods which means that their products last forever – thus reducing waste and consumption.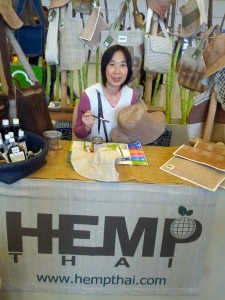 Hemp Thai
You may automatically associate Hemp with its more recreational function, but Hemp is a sustainable plant that is very versatile, used for many things including the production of fabric. Hemp Thai gets their organic Hemp from the Hmong hill tribes in the Northern part of Thailand and uses it to produce bags, sweaters, hats and boots. Part of their profits go towards an education fund for Hmong children. Their Hemp textiles are dyed with natural pigments which are extracted from plants and fruits including mangoes, indigo trees and ebony. The owner is the lovely lady in the photo, Olive,  who was hand painting the Hemp hats herself with a protective enzyme to make them more durable.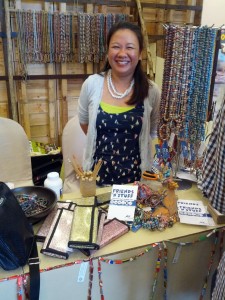 Friends 'N' Stuff
Meanwhile Friends International Organisation (Thailand) is helping parents of vulnerable children living in Bangkok generate more income by turning everyday objects into funky accessories. They're given old magazines and plastic snack packaging, they cut them into sheets and roll them out and then press them to form beads. From these they make necklaces, bracelets and earrings. I bought a Friends 'N' Stuff bracelet. Its very cool! The smiling lady in the photo was very helpful and invited us to come visit their shop in Sukhumvit Soi 49. A social enterprise that is also eco-friendly!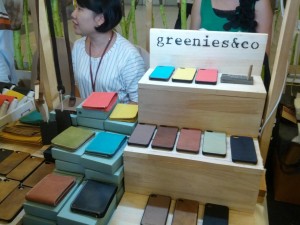 Greenies & Co.
If I was looking for a case for my phone I surely would have picked one up from Greenies & Co. Their smart-phone cases and straps, wallets and stationery utilise naturally dyed (lead-free) leather. Their products are packaged in recycled paper with labels printed in soy ink!
And last but not least, Rubber Killer bags made from old tyres. Each bag is a one-off as the rubber tracks are unique. From messenger bags and totes to iPhone covers and wallets, Rubber Killer will definitely have something you want. The creator is Chiang Mai-based architect Saroengrong Wongsavun who is happily smiling in this photo. The rubber he uses for his smaller bags and accessories comes from the inner tubes of 10-wheel trucks, while heavier rubber from tractor wheels are used in the production of his durable and waterproof shoulder bags. The bags are black and simplistic in design, but smart and practical for any occasion. Rubber Killer products are sold at Propaganda and the Eco Shop by Top Pipat.
Other stalls that were at the Eco Design Fair that I didn't have a chance to chat to include: Plato, PiN (The Art of Metal's Life) who make beautiful metal sculptures and fixtures,  Re-board C.G.S. Design Center who designed the entrance display stand for the event and  Pharata dolls – which were very cute indeed. I also missed the workshops by Hoo DIY, Scrap Shop and RE+Pair.
We had a great time at the fair. A great opportunity to network with eco design pionneers. Great to see the beginnings of a green design revolution.