My friend Taps and I ventured down to Phra Arthit for an adventure of sorts last Sunday morning. Not a great idea, because Phra Arthit sleeps by day and comes alive at night- well done me! Nevertheless, Phra Arthit is filled with quirky little antique stores, famous foodie joints such as Escapade Burgers, Roti Mataba and the Joy Luck Club. A lovely area for dinner and drinks, but because we were there during the day, it was very uneventful staring into closed shop windows. I was starting to feel really guilty for dragging Taps all the way out to Phra Arthit and then having all the cool places be shut. Just my luck!
Then she had a brilliant idea – to head towards Khao Sarn area and try out this cool veggie restaurant she had heard about called May Kaidee. So off we went. The winding streets led us to backpacker mecca Khao Sarn, with its funky smells, hoards of people and touts screaming you down, all part of the Khao Sarn experience. Khao Sarn was definitely open for business! Finally we saw the flashing signs of the Burger King and our googling had told us that May Kaidee was just behind the Burger Ki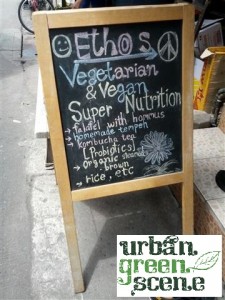 ng, so we headed down the alley and ended up in this quite little lane with a line of vegetarian restaurants! We decided to go to May Kaidee for lunch, which you can read more about in my review of May Kaidee vegetarian restaurant. After lunch we weren't quite ready to face the touristic chaos of Khao Sarn just yet. and so strolled down the back alley and stumbled upon a little gem, Ethos Bakery Café.
We floated into Ethos, drawn by the lulling sounds of the gentle Hindu raag playing in the background and settled onto our comfy cushions. We were very happy to have found this little haven and wished we weren't so full from lunch so we could try some of their food. Their extensive vegetarian menu spanned a variety of cuisines from Mediterranean to Indian to Western and Japanese. They had home made vegan deserts, their own kombucha tea and the promise of no MSG or GMO in their food. While the veges and fruit used are not organic, their rice is certified organic.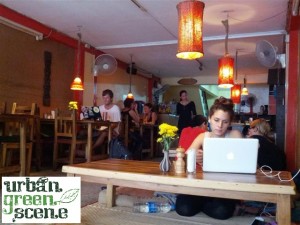 The owner of Ethos Bakery Café according to their website is a gentleman called Steven Almeroth whom I would have loved to meet after reading their menu. You must have been to restaurants where you remember the menu because of its quirky design or its great style….this menu was highly memorable because of everything I learnt from reading it! It was a like a lifestyle guide / healthy eating manual / vegetarian bible / menu – all in one. Reading the menu felt like Steven was giving me a lecture, imparting all his passion and knowledge about healthy eating onto me.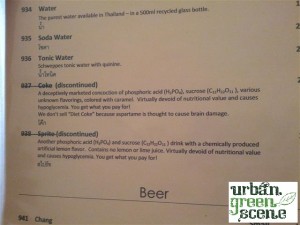 This snippet on the left is the perfect example. Rather than just omitting Coke & Sprite from the menu, Steven chose to leave it in, and mark it discontinued with the full reason behind it. In case you can't see the writing clearly in my photo, this is whats written under Coke "A deceptively marketed concoction of phosphoric acid (H3PO4), sucrose (C12H22O11), various unknown flavorings, colored with caramel. Virtually devoid of nutritional value and causes hypoglycemia. You get what you pay for!" and then he goes on to say "We don't sell 'Diet Coke' because aspartame is thought to cause brain damage." Amazing! Sprite says something similar. But what is ironic to me is, Beer is still on the menu! Local beers have been confirmed to contain formaldehyde (CH2O). Formaldehyde is known to cause rapid blindness, organ failure and death. Shouldn't that have been on the menu too?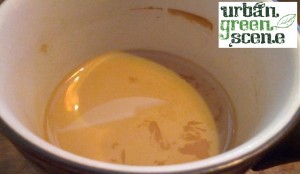 After spending a little too long reading the fabulous menu, Taps ordered a cappuccino and I ordered a chai. My chai was delectable, hot and creamy. Taps' cappuccino ticked all the boxes a good coffee should.
We then decided to be a little adventurous and try some of their own home brewed Kombucha tea. For those of you who don't know what Kombucha is, in short, it is a raw, fermented, probiotic, and naturally carbon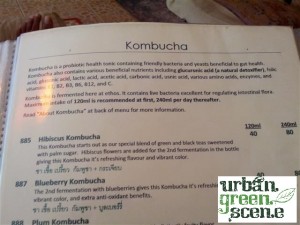 ated tea. It is rich in amino-acids, probiotics, antioxidants, glucuronic acid, trace minerals, B vitamins and more. Generally known to be good for gut health and detoxification.  They have a large variety of Kombucha flavours on their menu and also extensive information on Kombucha and its health benefits. There was an entire section in the back of the menu dedicated to it. They also have instructions for beginners on how to start taking it. A very fascinating and educational read. I think Steven should put all this information up on his Ethos website when he gets a chance.
I am a beginner with Kombucha and have heard that you have to be a little careful with Kombucha as if it is not properly stored in the fermentation process, it can get mouldy.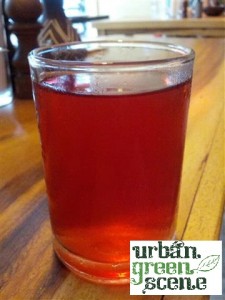 But because they had such an extensive menu of different types, we thought their Kombucha must be okay. So we ordered a 120ml shot of Hibiscus Kombucha, and we weren't disappointed. It was cold, delicious and a little too easy to drink. Highly suggest you try one of their Kombucha teas, you won't be disappointed.
Our total bill for 4 drinks was about 200 baht. Very reasonably priced. Service was laid back, all part of the vibe.
In short, Ethos Bakery Café  is the perfect place to get away from the chaotic Khao Sarn crowds. With its dim red lighting, free internet, quiet soothing music, relaxed seating and extensive vegetarian menu, Ethos Bakery Café won't disappoint.
Green Rating: 3/5 on the green-o-meter. Highly recommended if you are a health foodie, vegan or vegetarian. Their vegetarian menu is extensive and I will definitely be back to try the food and home made deserts. They don't use any MSG or refined sugars in their food which is great. Their produce is not organic, so that does leave room for improvement. However they do serve certified organic rice.
Ethos Bakery Café |85/2 Soi Bowonrangsi (behind Burger King, off Soi Tanao and Khao Sarn Rd)| www.ethosnet.biz |Open daily 09:00–22:00. | Ph: +662-280-7549| $-$$