What is Hilltribe Organics?

Hilltribe Organics is an organic egg farm located in scenic Chiang Rai. Originally, HTO started as a research project on "gai baan" in Buriram in 2011. After lots of (really difficult) trial and error, and some very intensive planning, the first chickens arrived at the hill tribe farms in Chiang Rai in December of 2013.
It all started with just 4 brave farming families willing to work with them and prove the idea was a possibility. And now, even though their company is less than a year old, their eggs are very popular in the local organic scene. And best of all they are an environmentally and socially conscious company whose goals go further than just producing organic eggs.
Bangkok Greenie interviewed Mr. Zach Gomes, who is the Chief Operating Office of HTO. Find out more about why Zach and his team started Hilltribe Organics and the social enterprise aspect of their company.  After reading this interview, you will definitely choose HTO eggs next time you are at the supermarket.

Interview with Zach
1. What was your motivation to start Hilltribe Organics?
Our motivation to start Hilltribe Organics came from two main reasons. First, we were already in touch with hill tribe communities through our parent organic rice company, Urmatt. We realized they had beautiful mixed-agricultural land that was not productive enough for them to cultivate, but was perfect for ranging livestock. We also launched the company with the explicit goal of increasing the income and standard of living for the hill tribe communities we work with – we have a lot of respect for the incredible work ethic and skills of this community, and believe they deserve just as much access to comfortable lives as anyone else in Thai society, which up to this point they have been denied.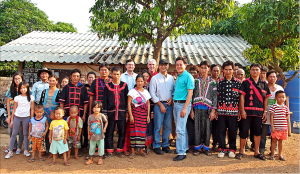 2. Tell us about the social enterprise aspect.
It's a very straightforward program; we raise chickens until they are old enough to make eggs, then give them at no cost to farmers who have signed up with us. We all agree together to a contract that says we provide free organic feed and expertise and the farmers guarantee to look after our chickens with care and according to the standards of husbandry we set for them; then we guarantee to purchase all the eggs they produce. We set a goal to help the farmers double their previous incomes, and we're very proud to say that all of our farmers have reached that goal – some farmers even managed to triple their income through the program.
Something we notice with some social enterprises/NGO's/charities is that the goals of social development projects are usually determined by people with a perspective that's completely different from the people they want to work with. We don't want to force Western or Central Thai norms onto the hill tribe farmers we partner with – it's great that the organic chicken farming lets them earn better incomes, but it's even better that it doesn't force them to "sell out" their culture, or adapt to a lifestyle that isn't their own.
3. Your eggs are not yet certified organic, what certification do you intend to get? What is your certification timeline?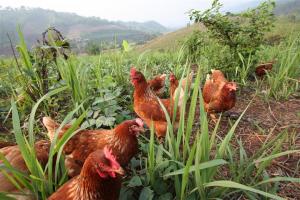 Our first certification we intend on getting is Thailand ACT livestock certification. We are beginning the process of certification this month, and we hope that everything will be completed within the next 2 months.
3. Where is your hen farm located?
All of our hen farms are located up in the hills of the Wawi district of Chiang Rai. It's an incredibly scenic area, and perfect for raising chickens because the hillsides support a wide range of mixed agriculture. We try to make sure that our chickens get to live on pasture that has as much biodiversity as possible.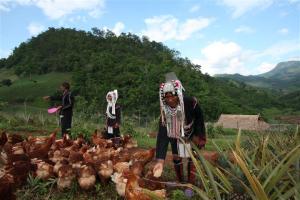 4. Are your hens raised on pasture? If not, how are they raised?
All Hilltribe Organics hens are raised on pasture, with a minimum of 4 square meters per bird. Every chicken coop is open from dawn until dusk, and chickens are free to come and go as they please throughout the course of the day. The only times we close the coop doors are during extreme weather conditions when the safety of the birds is at risk. We put a big emphasis on making sure our farmers encourage the to hens free-range as much as possible.
5. What is the typical diet of your hens?
Our hens are fed a mixture that mostly consists of broken rice and rice bran. We also feed them whole roasted non-GMO soybeans and sesame meal. There's a lot to consider when making a chicken feed recipe, so we seek to cover all the nutritional basic requirements with the feed we mix for them. But really, we think the big difference in quality comes from the diet the chickens get on the pasture. Our farmers are always growing nutrient-rich vegetables in and around their chicken farms, so if you were to visit the farm, you'd see chickens picking through a buffet of whatever foods they like best on their pastures. Some of our chickens can be really picky, we've noticed, and they all seem to be big fans of pineapple and termites!
6. Are your hens ever given hormones or feed additives?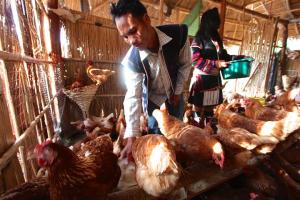 Our chickens are never given hormones or any form of feed additives. We find that farms tend to do this to reach production targets and to add nutrition that isn't available to the chickens they have. That's mostly because the chickens are denied their natural lifestyles for productivity's sake; but we are firm believers that the more you let your chickens live as they would in nature, the better they are able to decide what foods they need to make their own nutrition more complete.
7. Are your hens ever given antibiotics?
Our chickens never receive antibiotics during the course of their lifetime. When our chickens are very young, we expose them to natural sunlight and airflow, and even allow them to go out and free-range. Most farms never do this, but we try to expose our chickens gradually to the environment so that they can build up their immune systems rather than relying on medicines and chemicals.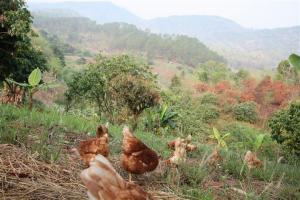 8. How long do hens stay in your farm? What do you do with hens once their egg production slows down?
Hens stay in our farm for roughly one and a half years. When egg production slows down, we sell the hens either to local buyers, hill tribe villagers, or meat production companies. Whenever we sell chickens, we share 30% of the sale with our farmers, and send new hens to live at their farm provided the farmers still request to stay in the program. We do this because our farmers cannot afford to look after non-productive chickens if they are to earn an income – this way, we are able to guarantee them a steady income and make sure they are fairly compensated for their work looking after the chickens.
9. Are your hens force molted?
Our hens are allowed to molt naturally as they get older and need to replace their worn out feathers. Farms try to force molt to cut costs, but the cruelty involved in doing that, whether by subjecting chickens to extreme lighting changes, rapid temperature changes or forced starvation (which is the most common), is completely unacceptable to us.
10. How much time do your hens spend outdoors every day?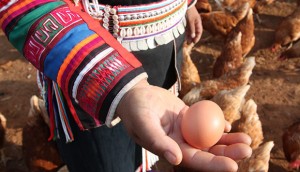 This depends more on the chicken and the weather than on us! Since we provide access to the outdoors during all sunlight hours, chickens are free to go inside and outside as they please. On average, we see that our hens like being outside between 06:30 and 11:00, and then again between 15:30 and 18:30 if it's a sunny, hot day. On cloudy or cooler days, they sometimes go in and out regularly for the entire day.
11. Do you allow the hens to breed and hatch their own chicks?
Our hens are not allowed to breed or hatch their own chicks. That's because we don't have the facilities to raise a breeding project right now. In the future, we would love to breed organic chickens as soon as we are able. As an egg farm we have to be very careful not to have roosters around to make sure our customers don't crack open one of our eggs only to find a baby chick inside!
12. Do you perform de-beaking?
We never de-beak Hilltribe Organics chickens, not only because this is painful for the chickens, but because de-beaked chickens aren't able to forage on pasture as well as chickens with full beaks.
13. Your carton says that your eggs are high in Omega 3. What food su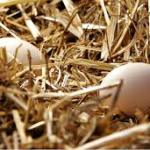 pplements are you feeding your hens to increase Omega 3 content?
We feed a higher than typical portion of rice bran and sesame meal. Also, because our chickens are given regular access to good quality pasture, they are able to forage "menus" of their own choosing, and diverse pastured feeding has been shown in studies by Mother Earth News to boost hens' ability to develop omega-3 content on their own. We do not supplement our feed with any processed oils to increase omega 3 content.
14. Your carton says that your eggs are high in Vitamins. What food supplements are you feeding your hens to increase vitamin content?
Our farmers need to provide vitamins to the chickens for the chickens to stay healthy, and a great added benefit is that a lot of these vitamins are transferred to the eggs as well. As of now, each farm has different ingredients available to it based on what grows in and around the chicken pastures, but all farms use their nearby fruits to ferment into natural liquid vitamin supplements. Most of our farms make this out liquid now using either banana or papaya. Additionally, they provide raw fruit, herb mixtures, and chopped banana tree stalks on a regular basis as supplements to the chickens' normal diets.
15. Are your eggs pasteurised?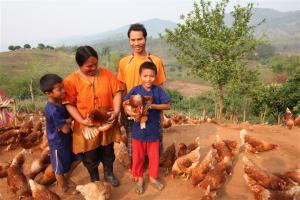 Our eggs are not pasteurized.
16. What are the egg crates made of?
We package our eggs in 10 packs made from recycled paper, which are packed into cardboard boxes. For restaurants and hotels, we package eggs in paper trays.
17. Where are your products available?
Hilltribe Organics eggs are currently in TOPS Supermarkets, Villa Markets, Fuji (UFM) Supermarkets, Rimping Supermarkets (Chiang Mai), Sunshine Market (Sukhumvit Soi 31), Passion Delivery (Home Delivery Service in Bangkok), True Vine (Home Delivery Service in Chiang Mai), Radiance Wholefoods (Sukhumvit Soi 22), a range of restaurants including Nahm, Karmakamet Diner, Rocket Coffeebar, Mr. Jones' Orphanage, Tribeca and many others, as well as hotels like The Sukhothai, Le Meridien Suwarnabhumi, Plaza Athenee, and Rayavadee Krabi.
18. What other products are part of the Hilltribe Organics brand?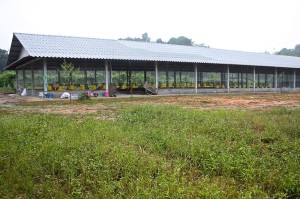 As of now, we only offer eggs. In the near future we will expand to growing organic vegetables and potentially fruit, too.
19. Tell us about your future plans.
Hilltribe Organics is still less than a year old as a company, so our focus now is on growing the egg farms in order to be able to reach more and more families, hopefully over 100 families by the end of 2015. Ideally, we would like to join the growing organic community in Thailand and help boost Thai consumers' awareness of the benefits of organics as a whole, leading many more people to adopt an organic diet and/or lifestyle that can hopefully get the Thai population a better appreciation for their soil and the nutrition of their food.
20. If you had to rate your business on a scale of 1-5 where 1 is the least Eco-friendly, and 5 is the most Eco-friendly, how would you rate yourself and why?
I think it would be presumptive of us to say we are a 'perfect' 5, as that would assume there was no more room for improvement, but the truth is there is always room for improvement both within Hilltribe Organics and in all the areas outside the company that we come into contact with during our work. We are a strong '4', I would say. Our chicken housing is made from recycled materials found locally, electricity is powered by solar cells, manure is composted for use in local organic projects, our water is drawn from local streams and aquifers, and our packaging is made from recycled paper. However, in the future I still see room to improve such as giving incentives to staff within the company to use less plastic around the farm and hopefully to establish a recycling program in the hill tribe farming community.
Green Rating: 4/5 on the green-o-meter.
Hilltribe Organics is definitely on its way to 5 stars once they achieve their organic certification. They have been very honest and transparent in their interview, going into the smallest details about their chickens, from feed to living space. This inspires trust in their brand. The social enterprise aspect of their company makes this success story even sweeter, as not only are they producing a sustainable organic product, they are also helping hilltribe communities develop in the process.
** Opinions are Bangkok Greenie's own. Note this rating does not rate their juice, nor their service, it is purely a rating of how eco-friendly, organic the business is. Rating given in November 2014.
For more information on Hilltribe Organics visit their website.