Kombucha Bangkok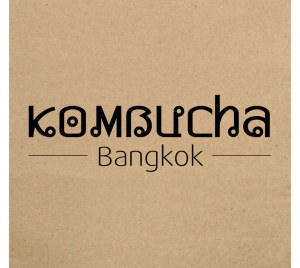 Kombucha Bangkok started over 1 year ago as a passion project for expat Cillia Bettus. Cillia has been living in Bangkok for over 6 years now after living in different countries in Asia and she has since become a complete self described kombucha addict. Kombucha Bangkok is not an established company, but simply a "sharing project" that Cillia has embarked on in her free time as she has a full time job. It all started with brewing for herself and now she is able to share her kombucha with a much wider audience.
Bangkok Greenie interviewed Cillia, who founded Kombucha Bangkok in early 2014. Cillia is a one woman show. She brews and bottles herself and is all round kombucha encyclopaedia. Find out more about why she started brewing and what makes Kombucha Bangkok shine in Bangkok's Kombucha scene.
Interview with Cillia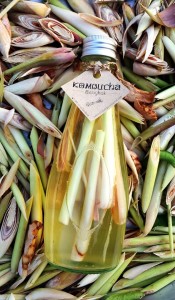 1. What was your motivation to start Kombucha Bangkok?
I wanted to try Kombucha but couldn't find it anywhere in Bangkok. I had to wait to get my first scoby from my family during a trip back to Europe. I then started brewing for my own consumption and it quickly became a passion. My friends tried it as well and stared to ask some bottles from me. I thought that other people would have the same struggle as I had finding Kombucha so I created a Facebook page.
2. There are many kombucha brewers in Bangkok at the moment, what do you think sets you apart, makes you shine in the kombucha arena?
I have noticed a few new brewers after I started the Kombucha adventure myself. I am not trying to compete with any commercial brewer. My production is 100% homemade and I am not planning in building a "Kombucha factory". I price my Kombucha to cover my costs, I actually don't really make profit from it, but it's such a great adventure and sharing the healthy drink that is Kombucha is my biggest reward.
3. What kind of products does Kombucha Bangkok produce?
As of now, only Kombucha! Plain but also flavored in different bottle sizes. There are about 12 flavors to choose from and any mix of flavors is possible! If someone wants a flavor that is not on the list, just let me know and as long as I can find it at the market, it should be possible.
I also had people asking for scoby to start brewing themselves. I am happy to share any scoby available that I have and really happy to see that people love Kombucha so much that they want to start brewin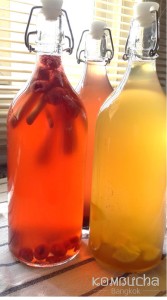 g at home.
4. Where do you produce your kombucha?
The production is made at my home in my kitchen, I have a section dedicated to Kombucha only. Each order is custom prepared, that is why almost any flavor combination is available. And I also need some time to get the order ready.
I pay particular attention for cleanliness and sterilization. The Kombucha I bottle for my customers is the exact same Kombucha I bottle for myself.
5. Where do you get your kombucha ingredients from?
I source my ingredients locally. Buying at markets when possible, using seasonal products, and avoiding imported products.
6. What percentage of your inputs are organic? What percentage of your inputs are certified organic?
The tea used is certified organic. I use back and green tea and make my own mix. The sugar is not organic but I use the brand wangkanai which is supposed to have less chemicals.
The fruit/spices used to flavor the Kombucha are 100% real fruit (no artificial flavors or preservatives). They are not always organic, it really depends on what I am able to find locally. I leave the piece of fruit in the bottles (I also think it looks nicer to see them swim in Kombucha), fruit can be eaten or Kombucha can be strained.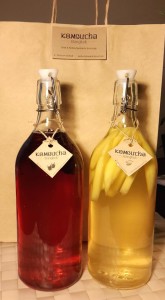 7. Is your kombucha certified organic? Or do you have any plans for certification?
No, it is not certified, and no plan for certification. I am completely transparent on the products I use, and I do try to produce as organic as possible.
8. Tell us a little about your Kombucha production process.
I always have jar of Kombucha brewing at home. When an order is placed the Kombucha is strained (to remove the large strains of yeast) and bottled. The fruits are then added, and the bottle is labelled. There is no pasteurization process, the Kombucha is 100% raw and full of good bacteria.
9. Tell us a bit more about your packaging. What are the bottles made of?
I do offer Kombucha in glass bottles and also in plastic bottles. Of course, I encourage using glass bottles and to reuse them, but I too understand that plastic bottles are more convenient for some people, or for a first time Kombucha drinker.
10. Does your Kombucha need to be "burped"? If so, what are your recommendations.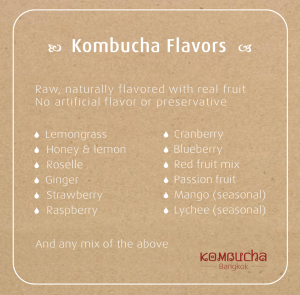 If kept in the fridge, it does not need to be "burped" – I do recommend to keep it in the fridge. If kept at room temperature (which is quite high in Thailand) it is safer to "burp" it at least once a day to release some pressure (carbonation from natural fermentation) to prevent any accident. To "burp" a bottle, simply open it, then close it again. A brief opening is sufficient to release the extra pressure.
11. How should your Kombucha be stored? Temperature? Conditions?
Kombucha should be kept away from direct sunlight. It can be stored at room temperature, however it will continue its fermentation process and the taste will become more vinegary, the carbonation will also intensify so the bottles need to be "burped" regularly to release the pressure. So, it's best to store it in the fridge, and a glass for chilled Kombucha is simply amazing!

12. Do you have a recycling program for your bottles?
Yes, there is a deposit for all glass bottles, and the deposit is refunded when the empty glass bottle is returned.
The plastic bottles are used 1 time only, and I do hope that the customers will recycle them and will switch to glass bottles for their next order.
13. How are your bottles sealed?
Bottles and caps are cleaned thoroughly with white vinegar. There is no additional seal on bottles as it will create additional plastic waste.
14. What is the shelf life of your Kombucha?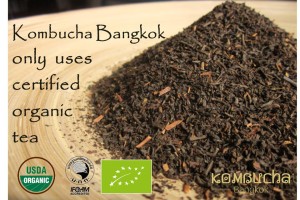 There is no determined shelf life. Kombucha is not pasteurized, so it's a live product. As mentioned above the fermentation will continue and the taste will change to more vinegary with time. Storing Kombucha in the fridge will considerably slow down the fermentation process. I have had bottles of Kombucha in my fridge for months and the taste was excellent, there is however some sediment that will form at the bottom of the bottle and a new scoby might even form (it's ok to drink it or strain it).
15. Do you deliver? If so, what mode of transportation do you use for delivery?
Yes, I do deliver in Silom/Sathorn area. This is the area where I live and work, so it's the most convenient for me. I do the deliveries myself using my scooter. Delivery at the BTS stations (mostly Surasak) is also an option; in that case I would simply walk to the BTS station. Deliveries usually happen before or after work, and on the week end.
If I happen to be in anothe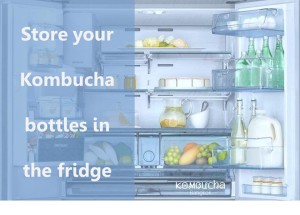 r area of Bangkok for some reason, I'm happy to deliver in this area at the same occasion.
16. How do you manage the waste by products of the production process?
The tea leaves and fruit peels are composted (my pants are really loving it!). The bottles labels as well as the bags can be composted as well. Only the packaging of sugar and tea go to waste.
17. If you had to rate your business on a scale of 1-5 where 1 is the least Eco-friendly, and 5 is the most Eco-friendly, how would you rate your business and why?
I would say 4 as my ingredients are not all organic. I do limit however the amount of packaging whenever possible. I paid special attention when designing labels to ensure they will create minimum waste and will be compostable/reusable.
18. Tell us about your future plans.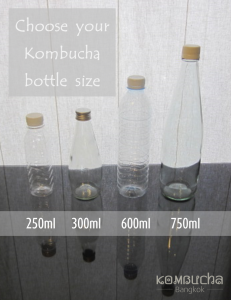 I am always experimenting new flavors. I am also working on some Kombucha vinegar and Kombucha face toning lotion as well as face mask. I am already using those products at home, experimenting a little more before offering those products for sell.
19. What is your personal favorite kombucha that you offer?
My favorite flavor is lemongrass, and my husbands' is raspberry, so we always have many bottles of those 2 flavors in our fridge! When it's a lychee season, lychee Kombucha is simply amazing.I go to work with my Kombucha bottle every day!
Bangkok Greenie's Rating
Cillia has been very open with all the information provided in this interview. Transparency to the consumer is very important when you are running a health related business and transparency is one of Cillia's own policies. She is very passionate about kombucha and wants to share her love of kombucha with everyone else.
Green Rating: 4/5 on the green-o-meter.  Even though this is a home brew sharing project, Cillia is serious about her product and is looking to expand her product line. She delivers her products herself by BTS or scooter.  Her waste management is impressive. Great to hear that her garden is enjoying the tea and fruit waste as compost. Moving away from plastic bottles would be a great step. As Cillia does not intend to become a company or business and stay as a home brewing operation, she doesn't intend to get organic certification, and while her kombucha is not 100% organic, she has been completely transparent about her inputs and processes which is great.
** Opinions are Bangkok Greenie's own. Note this rating does not rate their kombucha, nor their service, it is purely a rating of how eco friendly, organic their business is. Rating given in April 2015.
For more information on Kombucha Bangkok or to buy their products you can contact them at:

W: https://www.facebook.com/kombuchabangkok
E: kombuchabangkok@gmail.com