The Little Tree market is held once a year on the stunning grounds Little Tree garden restaurant. I found out about the market via Urban Tree's facebook page. It intrigued me as I could see that within 5 days, this page had garnered over 3000 likes, there must have been something awesome about this market, otherwise why would so many people like the page without any advertising. So I looked up their website and found a tiny tiny map, that was supposed to lead us to Little Tree. I asked Urban Tree how long they thought it would take us to get there and they estimated an hour's drive. As such we ummed and aaahed about whether to go or not as it was so far away and the map was super unclear. But we finally found some GPS co-ordinates on the Little Tree facebook page (GPS : 13.687252, 100.251483) and decided why not, nothing to lose, lets go!
We left the house bright and early at 9am on Sunday 4th August. The GPS led us out past Tha Phra and onto Petchkasem Rd. along the route we would take to get us to Sampran Riverside (formerly known as Rose Garden). The exact co-ordinates led us to this really weird Moo Ban (housing estate) called "Palm Ville". At this point my husband was looking at me like, "uh huh now where is this market we've been driving an hour to look for". The security guard was useless, had never heard of Little Tree, so we decided to call the market organiser who had very kindly put her number up on the facebook page. Brave lady! With her guidance we realised we shouldn't have turned right into "Palm Ville", Little Tree was just a few metres up ahead! Woo hoo! We had reached our destination!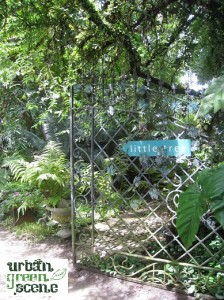 Much to our surprise and relief, there were hundreds and hundreds of people parking their cars along this windy road with a sign that said "Little Tree". We parked our car and started our walk down a windy green path, with orchid plantations on either side. 15 minutes later we were still walking, but the excitement was building as I thought to myself these hundreds of people must be here for something cool…right?
Finally we reached the green gates of Little Tree garden and restaurant and were greeted by a flurry of people, and market stalls. There must have been at between 50 to 100 stalls there. All lined along a curving path that took you on a tour of the entire property. No tables or anything fancy, all the stalls were set up on straw and cloth mats on the floor with the owners/creators manning the stalls themselves. I was in market heaven.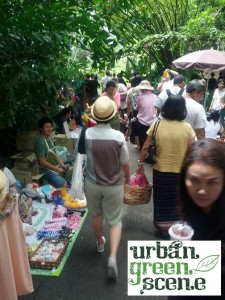 None of my photos are going to do Little Tree any justice. This place is just magnificent. Beautiful lush greenery, stunning gardens and landscaping. Its worth visiting Little Tree even when the market isn't on. Its the perfect place for families. Lots of place for kids to run around. Swings and benches in every corner. And the food in their own restaurant, looks scrumptious. We didn't get a chance to try it as the lines were way too long, but had a drink each. My husband had an iced coffee and I had a lychee juice, both were very refreshing!
I can't possible tell you about all the quirky and cool stalls that were at the market, it would take me a month to write this article. However, I will mention a few that really stood out from the crowd for me.
Run by a very cool husband wife duo, K. Pat (Krittiya) & K. Kongrit Trakoontiwakorn, pictured in the photo on the right, this social enterprise was a gem to find! ๑4๑ or 141 in roman numerals is their ethos as well as their name. For each toy they create & sell, there is one toy created for charity – One for One. Very clever name. I borrowed the diagram below from their facebook page which explains their amazing charity model.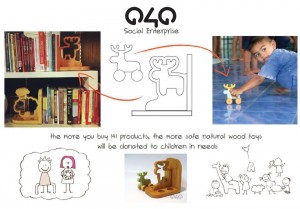 Their toys are very cleverly designed, all made out of bamboo wood which is sustainable, and painted with chemical free paints. We bought a wooden rainbow from them as a gift for our niece's birthday. They made us fill out a small card with her name and a message which they would donate along with the gift for charity. Next time you are looking for a toy, I highly recommend this amazing social enterprise. Email them at 141products@gmail.com to find out more.
A small family business based in Lamlukka, Bangkok, Love Wood Shop creates and sell natural toys for children. From handcrafted musical instruments made out of wood to a work bench for artistic and creative kids, this stall had a great variety of educat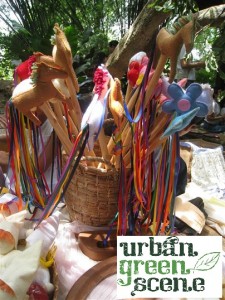 ional toys for children. I fell in love with their rainbow unicorns which I had to buy for my niece. (Actually thought about keeping it for myself, that's how much I loved it.)
Apart from wooden toys they also have cute handmade fabric dolls. They had already run out of those by the time we reached the stall.
For more details check out their website www.lovewoodshop.com or send them an email at jimjim@lovewoodshop.com.
This pretty lady in the photo on the right hand side is from Zakka shop was selling handmade bags, shoes and vintage clothing! Her shoes were very very cute. Most of her clothes and accessories were made from natural fibres and vintage fabrics.
All the way from Chiang Mai, Hand Room brought along a beautiful range of children's clothes and home ware items, made of local Chiang Mai fabrics  with hand crocheted and knitted accents.
There were so many beautiful stalls that I can't begin to cover them all. Another real highlight for me was the number of children's activities around. Book reading, drawing, painting, board games and so much more. This is the most child friendly market I have ever been to.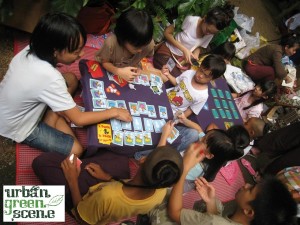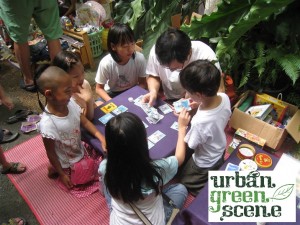 So many of the stalls were also manned by children as most are family owned businesses.
Last but not least there was also a big food scene. Apart from the restaurant's own amazing looking food served in their patio and gazebo zones, there were also food stalls selling organic rice and home made organic goodies scattered through the market. There were also herbal drinks and juice vendors around. Stalls selling potted plants, cacti, pots and other gardening equipment were also plentiful and last but not least a favourite at most of these markets, home made soaps were on sale at many of the stalls. I thoroughly enjoyed my first Little Tree Market experience and will do my best to make it back every year!
Green Rating: 4/5 on the green-o-meter. Little Tree is the perfect backdrop for this market with its luscious green surroundings on the banks of Tha Chin river. Organic food, clothes made from natural fibres, vintage clothes, natural children's toys, natural and organic body products and so much more is available in this 2 day market. I will be back again next year!
For more photos of the market go to the Urban Green Scene facebook page.