Being vegetarian is about the greenest change you can make in your life! Its not tough to be vegetarian if the food is yummy, and I have to say that I really enjoyed my first May Kaidee food experience.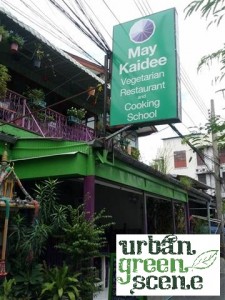 My friend Taps had heard about May Kaidee from a few vegetarian friends of hers, and as we were in the Khao Sarn area, we decided to come and check it out.
Located on a quiet leafy street just behind the Burger King on Tanao Rd (just off Khao Sarn Rd), May Kaidee is easy to spot with its decor brightly painted in suffragette purple and green. The atmosphere is laid back and breezy. The staff all looked very clean with their hair nets and aprons.  Service with a smile as you would expect in Thailand.
As we sat down, I noticed we were the only local Thai folk in the joint which was buzzing with tourists. This restaurant is famous on both trip advisor and listed on the lonely planet guide and so this was perhaps to be expected. The menu is in English, so very tourist/expat friendly. It is important to note that all the foo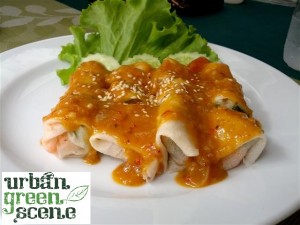 d here is MSG-free.
Taps and I love to eat, so we ordered a few dishes to wet our appetite. First came the fresh spring rolls pictured on the left. They were delectable. With a tangy peanut sauce. Highly recommended when you make your way here!
Next came our Banana Flower Salad pictured below. Also delicious. Similar peanut based sauce as our fresh spring rolls. These two dishes really went down easy. Not spicy, great flavours.  Next, it was time to order our mains, we decided on a pumpkin hor mok (traditionally made with eggs and seafood) and a vegetarian pha lo (traditionally made with eggs, tofu and pork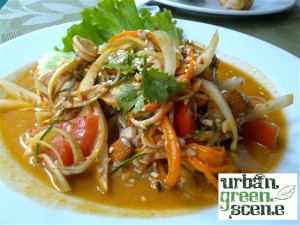 ) and some brown rice.
While waiting for our meal, I had a quick look at the May Kaidee cook book. Good basic recipes, set out in a very simple manner with lots of spelling errors. Not suitable for me, but I imagine a lot of tourists would purchase this cook book and be able to make some good vegetarian Thai food back in their home countries.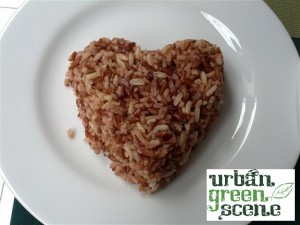 Brown Rice arrived in the shape of a heart. Very cute. Followed by the pumpkin hor mok pictured below.  Creamy pumpkin with great hor mok (red curry) flavour, not spicy, with a huge dollop of coconut cream on top. Not a light dish by any means. Wasn't as good as the first two dishes, but an inte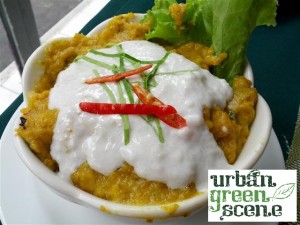 resting version of hor mok. And last of all the vegetarian pha lo was placed on our table. Delicious variety of tofu with a five spice soup. Very light and yummy. Our total bill for all this food plus 2 smoothies and a bottle of water was just under 500 Baht. Very well priced, dare I say cheap, for the quality and quantity of food provided.
Overall, we really enjoyed our meal. May Kaidee serves up great vegetarian Thai food. At times it does feel like the food caters for a more touristic taste with carrots in most dishes and the non spiciness of the food. But all that being said, all the food tastes great. I will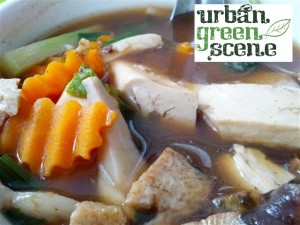 definitely be back. I would love to return with a bigger group of eaters so we can try a larger variety of dishes.
If you have some vegetarian friends from overseas in town and are planning to take them to Khao Sarn Rd on the tourist trail, May Kaidee is a great place to stop for lunch. Great smoothies, light and delicious vegetarian food with a touristic level of spice (i.e. you won't be sweating or wiping tears after this meal). From reading their trip advisor page, it also seems that their cooking classes are highly recommended.
Green Rating: 3/5 on the green-o-meter. Great vegan and vegetarian Thai food. Highly recommended. They don't use MSG in their food. None of their produce is organic, so that leaves room for improvement in the green arena.
May Kaidee Restaurant and Cooking School | 59 Tanao Road, Bang-lam-phu, Bangkok| https://www.maykaidee.com|Ph: +662-629-4413| $-$$