Who are Me Juice?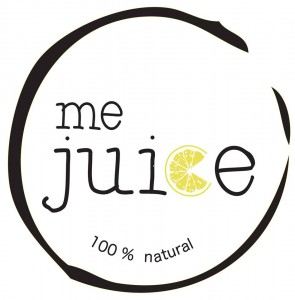 Me Juice are a Bangkok based juice company who's slogan "Drink Fresh, Look Fierce" is certainly one to make you stop and look.
Bangkok Greenie interviewed Suphattra Sinturos (Pat), who co-founded the company in October 2013 and is currently the Production Manager and in charge of QC and sourcing ingredients. Find out more about why Pat and her team started Me Juice and what's behind their buzzing brand.
Interview with Pat
1. What was your motivation to start Me Juice?
We are just start with making juice for ourselves and playing around try to add some new ingredients just like cooking and then falling in love with JUICE. We read more and talk with more people and some friends who is working as nutritionist and some expert. And that inspire us!
2. There are many juicers i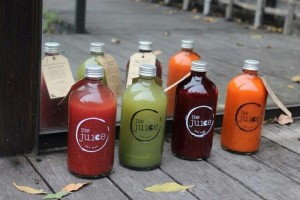 n Bangkok at the moment, what do you think sets you apart, makes you shine in the juice arena?
Drinking juice & Making juice are EASY, HEALTHY and FUN. We want to make the juice community and we love seeing people making juice and drinking juice. Even some customers want to  juice at home for themselves we happy to give them advice however most of them just realize is so much time consuming for preparing, juicing and cleaning later so they come back to just get home delivery again. For us just only you know basic thing that you should know that you should not use too much fruit in your juice and drink more veggie. Use good quality ingredients and the rest you can have fun with it.
3. What do you think about the raw food movement?
Growing pretty fast now. People concern more about raw food and healthy li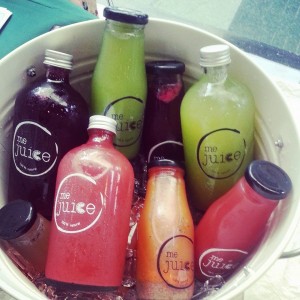 ving.
4. Where do you get your juice ingredients from?
We always tell customer that most of our ingredient are organic / hydroponics and non-toxic vegetables & fruit. We get some fruits & vegetables from  BP Organic Farm in Ubon Ratchatani / local farm in Loei , Royal Project. We always sourcing new supplier because one farm cannot provide us all the time.

5. What percentage of your produce is organic?
Our produce is a combination of : regular non-organic, hydroponic, royal project, non-toxic & (non certified) organic. We clean our produce in the best way possible to get rid of pesticide.

As in Thailand , The organic thing is growing and people put more interesting but in term of agriculture is still in small group. That's why we can use just 70% of real organic of fruit & vegetables. Some fruit such as pomegranate is not organic.
6. How much is certified organic?
BP farm is working in progress to be certified organic farm,  the owner is my partner friend, not popular yet.
7. What does non-toxic vegetables/fruit mean?
If we use non-toxic fruits or vegetables , we definitely clean its with vinegar to get rid of the pesticide as much as we can.
8. What are the juice bottles/containers made of?
We start with glass bottle however now we have both plastic (PET) and glass bottle. We use plastic (PET) bottle when we deliver to up-country. Some customer that prefer to have plastic also can order plastic bottle however 80% of our customer prefer glass bottles and they can trade them for next order 10baht off for each bottle that they return. We reuse for glass bottles. each glass bottle of 500ml size worth 10 baht when they purchase next order.
9. Do you have a recycling p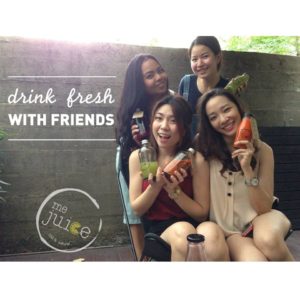 rogram for your bottles?
We reuse for glass bottles. each glass bottle of 500ml size worth 10 baht when they purchase next order.
10. How do you manage your juice waste? i.e. byproducts of juice making process.
We are in process talking with a farm if they want to use our juice pulp for their vegetable. We expect that our pulp can be made to fertilizer or something beneficial as LPG.
11. Do you have a juice delivery service?
Sure, we delivery to customer' s home or office , place that convenient to get by client. And we have pick up point at Beans & Booze cafe, Sukhumvit 50 as well. 
12. What mode of transportation do you use for delivery?
We delivery by Taxi with a professional and polite messenger around Bangkok.
13. If you had to rate your Juice business on a scale of 1-5 where 1 is the least Eco-friendly, and 5 is the most Eco-friendly, how would you rate your juice and why?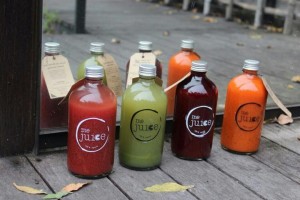 We would rate our business 4/5 Eco friendly. By glass container that we reuse them, we also have glass straw on sell and we give away to our regular customer to use instead of plastic straw. We are in process talking with a farm if they want to use our juice pulp for their vegetable.
14. Tell us about your future plans.
We planing to create more variety juice. More seasonal juice and healthy meal plan and we looking to expand it to other city like Hat Yai, Phuket and  Chiang Mai.
15. What is your personal favourite juice that you offer?
Green No.1 is the exactly what I also get for start the day!
Bangkok Greenie's Rating
The most important thing to this website is eliminating green wash and bring transparency to consumers. To this end, I try to evaluate all vendors based on an objective standard, in particular when it comes to looking at whether they are organic, that being the certified organic criteria published by the International Federation of Organic Agriculture Movements (IFOAM).
Green Rating: 3/5 on the green-o-meter. Me Juice advertises themselves as "Cold pressed, raw, organic, detox programs" on their facebook and website. As per the interview above, consumers should be aware that not all produce used by Me Juice satisfies the IFOAM criteria for being "organic". Ingredients that are 'non-toxic', 'non-organic…properly washed', 'hydroponic', or from 'Royal Projects', are not necessarily 'organic'. This doesn't mean that they aren't, but it does mean that until provided with better evidence I cannot definitively say that Me Juice uses 'organic' produce as advertised. Produce aside, Me Juice have a great bottle recycle program. They offer 10 Baht off the next bottle purchased for each returned bottle. They also have future plans to look at ways of better managing their waste products. Me Juice are a fun filled lifestyle focused juice company who can get anyone excited about drinking juice!
** Opinions are Bangkok Greenie's own. Note this rating does not rate their juice, nor their service, it is purely a rating of how eco-friendly, organic the business is. Rating given in April 2014.
For more information on Me Juice, visit their website or contact them directly.

W: http://www.mejuicepress.com
P: +66 81 496 6663
E: info@mejuicepress.com