Riva Surya Farmers' Market
As we were making the trek from Sukhumvit to Phra Arthit for the Riva Surya Farmers' Market, we were picturing a market set against the beautiful backdrop of the Chao Phr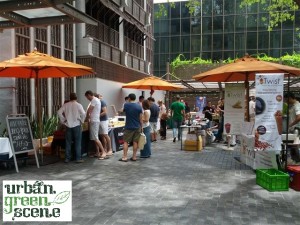 aya with a bustling local hippie style crowd. But it appears our expectations were totally out of sync with what was to be. The market was being held in the parking lot in front of the hotel.
As we walked in, I was happy to see all my favourite stalls. Starting with Twist juices and the smiley face of Michael Riley. I was very happy to find that Michael has added organic coffee to his list of wonderful drin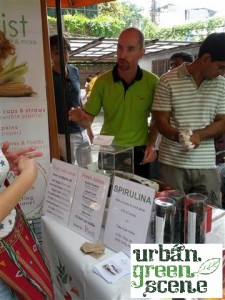 ks. You can choose to have your coffee exactly how you like it. I decided on an iced coffee with a dash of sugar. No milk. It was suitably refreshing and a nice wake up kick.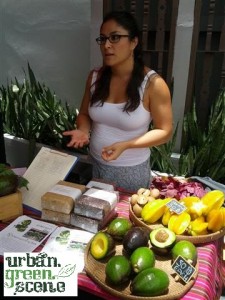 Our favourite organic farmer, Raitong Organics was there with some juicy avocados. Had a quick chat to Giada, bought a ripe avo and out of the corner of my eye saw a new vendor The Bagel Cafe. Their bagels looked delectable. Must have a chat to them at the next market to find out more about their baking ethos and what they do.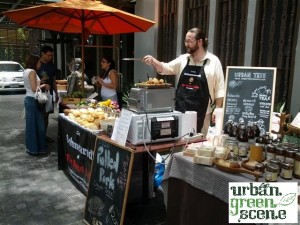 Next we ventured along and found all the beautiful products of Urban Tree. With a brilliant moto "Think Globally, Consume Locally", Urban Tree has a wonderful line o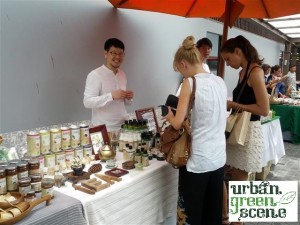 f products from Kaffir Lime Shampoo, to Mung Bean Masks, to beautiful herbal teas. They also stock certified organic coconut oil and rice. The owner K. Adisak "Dee" Kaewrukmuk is a lovely guy who is happy to delve into a conversation about organic food, health, his self crafted range of Urban Tree products or just about anything!  He is incredibly knowledgeable about all things organic.
Then came the beautiful R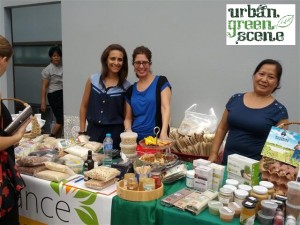 adiance ladies, Anchal and Ravina. Radiance Whole foods has just opened a brand new shop front in Sukhumvit 22, which you should check out. At the Riva Surya Farmers' market, they had brought along a wide variety of whole foods, nuts, grains, organic eggs and much much more.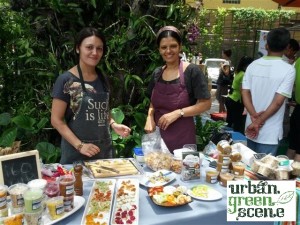 Following that came a stall with a smorgasbord of things to taste and try. Pratima who is the brains behind home foods company Good Food 4 U Bkk, pictured on the right in the purple apron, is of Indian heritage but has moved to Bangkok from her home in New Zealand. Her passion for healthy home cooking has resulted in Good Food 4 U Bkk's large range of sauces, dips, chutneys and much more. She uses organic produce wherever possible. There are no artificial flavours or preservatives in her food. Her food is also all seasonal. I bought a pot of Dukka (a blend of sesame, nuts, seeds, spices) from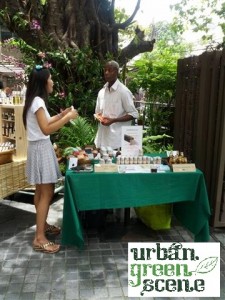 her and it was amazing. I have been sprinkling it on my eggs, my avocado sandwiches, and salads since I got it. Make sure you visit their stall next time and taste their dips and chutneys! Everything is very fresh and yummy!
We bumped into the happy Mr. Aldo who was there with his range from To Be Earth Care. I have been wanting to pick up some of his Bamboo Charcoal bags which are absorbers of odors and damp. They aren't cheap at 250 baht a pop. But they are completely natural, hypo allergenic and are supposed to last up to 2 years. I have replaced my non-eco friendly damp absorbers with this bamboo charcoal alternative and will wait and see a few weeks as to the success of the bags! Aldo remembered that I had bought some bamboo salt from him at a prior market and asked me about my usage of it. I was so impressed that he remembered me. And yes, the bamboo salt has been great as an anti inflammatory and even for brushing my teeth!
Other vendors there include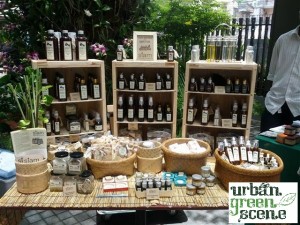 d, Siam Botanicals (pictured on the right) who have a great range of natural skin care and spa products.
Yogi Dairy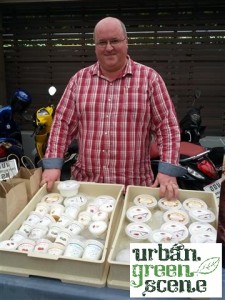 (pictured on the left), a boutique dairy products manufacturer who have a great range of cheese, yogurt and dips.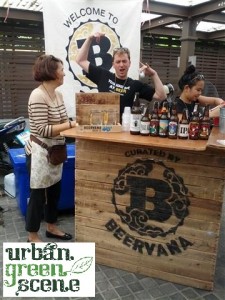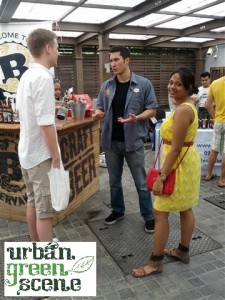 The Beervana crew were there, with buckets of enthusiasm and an immense love of beer. If this market had been by the riverside, I may have just spent my entire afternoon with the Beervana folk.
My favourite sausage man, Mr. Joe Sloane was there with his delectable sausages and amazing chipotle sauce.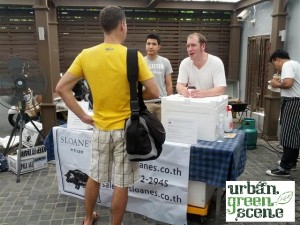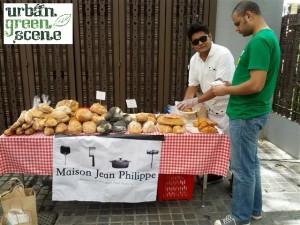 Maison Jean Phillipe was there with their beautiful breads. My husband bought a few pain au chocolat for afternoon tea.
I also saw a vendor called Elsewear, selling yoga pants but can't find out any details on line. Unfortunately there was no one manning the stall when I was at the market.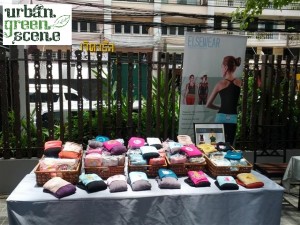 There were a few other vendors, but unfortunately my camera ran out of battery.
To wrap up, all the vendors at the market were great as usual, however, as for the actual market itself, there are a few points of improvement I think are necessary to make it a success. I would like to suggest that the market organisation team engage with all the local Greenies in the area such as May Kaidee, Steven Almeroth from Ethos Bakery Café, Tham Na Restaurant and all the other juicers and local providers. They would get a lot more local people in the area in attendance as well as a lot more promotion from the local businesses. And also it would make this market something different from the Spring Epicurean market and other markets that already take place in the inner city. We, the consumers, would get to meet new vendors and try some of the local eats of this area. And last but not least, please have it by the riverside, why else would people from town trek all the way out to Phra Arthit? Such beautiful views in the hotel and we were stuck outside in the parking lot. I hope they decide to have another Riva Surya market, but this time with some Phra Arthit flavour!