Every new restaurant that is worth going to has his delectable pork sausages on the menu. He is at the Spring Epicurean Market, Bangkok Farmer's Market, Pecha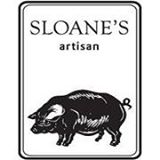 Kucha … everywhere. (It seems he has the ability to be in multiple places at the same time.) His sausages have taken Bangkok by storm and it is because Joe Sloane is awesome!
Bangkok Greenie was lucky enough to be able to interview Joe and ask him a few questions that will give you some insight into his amazing business and how he has played a key role in changing Bangkok's foodscape.  Find out more about his nose to tail philosophy and his awesome future plans. He truly is an inspiring pioneer in Thailand's culinary world.

Interview with Joe Sloane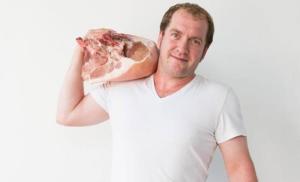 1. What was your motivation to start Sloane's?
I kind of fell into it really. When I put my chef's career on hold to look after my new born daughter full time, I started making sausages in (the little) spare time I had. No one was doing any real butchers style sausages in Bangkok and the only British style sausages being made were made as cheap as possible to appeal to the '99 baht breakfast' places. I felt there was a gap in the market and wanted to produce the best sausages and bacon's out of the best pork available. It was tough at first to find anything other than the standard pork or get a pig butchered to my specification. But through some friends (Bo.lan restaurant and Raitong Organics) I was put in contact with a small farm producing some free-range pigs and I started to butcher my own pigs.
2. Where did you pick up all your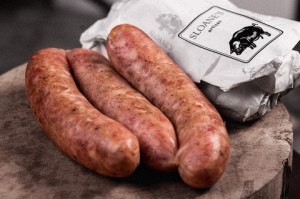 amazing butchery and chef skills?
I've been a chef all my life (never a butcher), and spent 15 years in Michelin starred restaurants and high end restaurants. But as a young chef I worked for an old French chef where every chef had to work on every section. As well as bakery and patisserie (which I hated) I also learnt butchery and basic charcuterie, which was more my thing. In London I worked at a place where we received whole pigs, lambs and deer regularly, it's a passion of mine that I took through my career.
3. What do you think about Bangkok's blossoming artisinal food scene?
The food scene has changed hugely since I first arrive and worked in the hotels here. It was all about imports then, but now people are realizing that great western food can be made here too, not just Thai food. Chefs are happy to buy local and are proud to support small local producers and put their products alongside the famous international producers.
Every week I hear of more great products being produced by small artisans across the country.
4. Can you tell me a little a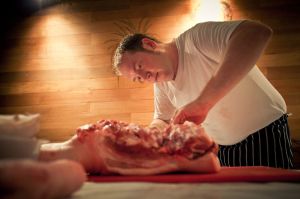 bout your nose to tail philosophy?
My view is that the animal should be respected all through it's life, it's death and then nothing wasted at the end. To me this is one of the most natural things in life and we've been doing it for thousands of years. Sadly modern day consumers have got far to used to just eating certain prime cuts. When used correctly, everything can be made used in an appropriate way and not just thrown into a cheap tasting sausage. Pigs heads get either cured and rolled or smoked (Vesper Bar). Bones are for stocks or cured and smoked (Opposite Mess Hall). Blood goes into morcilla, black puddings, boudin noir. Trotters for gelatine. Liver for pâté. Skin for scratchings/chicharrón. The bits of offal that I can't use easily goes to dog food (I have very healthy dog!)
5. Where do you get your pigs/pork from?
I use a few farms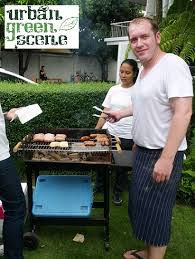 now, our main farm is based in Ratchaburi, but I also work with a few others across the country including a Permaculture farm in Chonburi (Daruma Eco Farm) and recently with a farming cooperative in Chiang Mai. I am very strict about where my pigs come from and insist on them all to be free-range, antibiotic/growth hormone free and slaughtered humanely. I visit every farm and abattoir I use to personally see the conditions the pigs are kept in and how they are slaughtered.
6. I read on your website that you use natural sausage casings. Can you please tell me a little more about those?
I don't use any artificial casings partly due to my view that all of the pig should be used, and partly down to that fake casings just aren't the same. I have lots of people asking me to make Veggie sausages, but to start using a fake man-made plastic casing goes against my ideas of keeping things natural.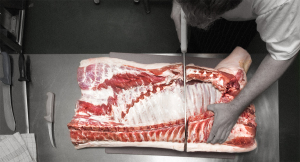 7. How do you currently manage waste/by products?
With using every bit of the pig we have very little waste from them, but like anyone we have the packaging that other products come in. As the business has grown we've managed to buy more products in bulk direct from producers so we don't get all the extra packaging when buying in smaller amounts. We've just started to purchase the natural dark sugar that we cure our bacons and hams with, in huge sacks straight from the factory.
8. Currently all your sausages and products are pork based. Have you ever thought of expanding to lamb, beef or even chicken?
We do have a few beef and chicken sausages on our menu now and these use lamb casings instead of hog casings, so they're suitable for people who don't eat pork. I currently don't do any lamb as I can't get local lamb at an affordable price for sausages, but I'm always looking for new farms.
9. Your business is rapidly expanding. How are you keeping up with production while still maintaining the artisinal quality of your products?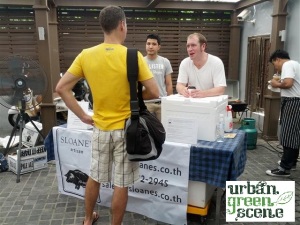 We just have to work a bit harder and employ a few more staff. All our pigs are still butchered by hand and all of our sausages are still stuffed and linked by hand. I have no plans to change this however much the company grows.
10. Whats your personal favourite item from the Sloane's menu?
It's a tough one, but either the Cumberland or the fresh Chorizo. Its the first two sausages I developed recipes for and although I've tweaked them a little since growing the basic recipe is still the same.
11. Whats next for Sloane's?
We're doing more events now and it's fun to get out and see our customers face to face, so we're pushing more of that side of the business now. We have various collaborations with restaurants coming up which is always great fun to work closely with some of Bangkok's best chefs and restaurateurs. We've become well know for our sausages, but it's nice to show off everything else we do.
We're also working closely with a couple of farms and hoping to have Thailand's first certified range of Organic pork in the future.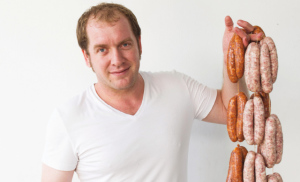 12. If you had to rate your business on a scale of 1-5 where 1 is the least Eco-friendly, and 5 is the most Eco-friendly, how would you rate Sloane's and why?
I guess I'd have to be about 3.5. There are always ways for anyone to improve. All our meats are raised locally, so there's very little carbon foot print compared to the imported meats available. I've always found it a little ironic flying organic goods around the world, but there are certain spices that we use that are imported – you can't make a chorizo without Spanish paprika. I'm certainly not against importing food, but if there's a local alternative then I'll always go for it.
We currently use recyclable plastics but are searching for bio-degradable packing to use and hope to move over to that in the new year. We already recycle as much as possible and use a natural bacteria in our waste water systems. Like we all should, we're constantly looking for ways to improve.
To order Joe's amazing products you can contact him through his website http://www.sloanes.co.th/. Best of all, Joe does BBQ catering, so for your next BBQ make sure you call his team for the best sausage sizzle ever!
Credit: Images from The Urban Green Scene, BK Magazine, Passion Delivery & Sloane's.