The inaugural Spring Epicurean Market was held this past weekend at Spring & Summer Restaurant (opposite the Racquet Club) in Sukhumvit 49. This is by no means a super green farmer's market, nor is it intended to be. Featuring some of my favourite artisanal restauranteurs and food and drink vendors as well as farmers and wholefoods vendors, the Spring Epicurean Market is a great way to start a food filled Sunday! With its big lawn for kids to run around in, lots of place to sit and hang out, as w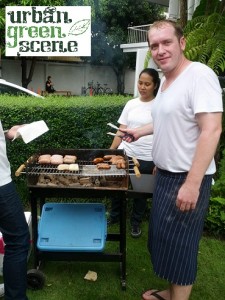 ell as the all around laid back vibe, Spring & Summer restaurant is a great backdrop for a market.
The wafting smells slowing enticed us from the entrance and straight to my favourite sausage man, Mr. Joe Sloane. Joe has gained fame around Bangkok as a purveyor of home made organic pork products. Joe purchases a hog or two (organic breeds from up-country) and expertly butchers them into delicious sausages. Nothing gets my morning going better than a delicious Sloane's chorizo with his amazing chipotle sauce. People like Joe make it hard to be vegetarian.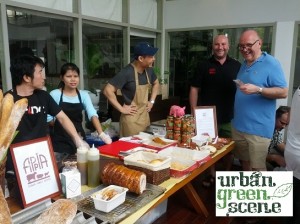 Next my nose led me to the Appia stall where smiling chef Paolo Vitaletti was having a good laugh with his team. That porchetta looked amazing, but my belly was already bursting so unfortunately I didn't get to try their Roman cuisine and their beautiful breads! But it certainly has enticed me to visit their restaurant in Soi 31 Sukhumvit.
Unfortunately I don't have a photo of this next vendor, but their pain au chocolat was to die for. Amatissimo Caffe had brought along their famed selection of beautiful bakery items which had run out by 11am. My husband got to enjoy their last croissant and is already looking forward to the next Spring Epicurean Market just so he can have another one.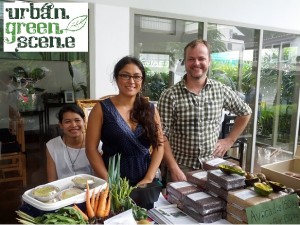 The greenest stall of all was manned by Bryan, Lalana and Giada – the Raitong Organics team, and brains behind the CSA munching box. I get their yummy Gorilla munching box delivered home every Tuesday. Its like getting a birthday present once a week. I am always super excited to find out whats in my Gorilla box. At the market, they had a selection of 9 types of organic avocado, organic rice, organic passion fuit and organic pears! There was also a sweet treat, Giada's home made key lime pie with organic avocados, which was delectable! Best of all it was really great to meet the team that puts so much effort into getting us our organic produce every week!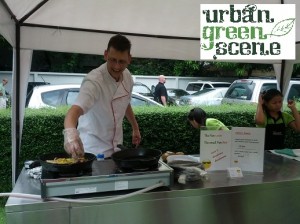 Next we visited Mr. Raro with his cast iron pans. He is more than happy to tell you all about his pre-seasoned cast iron pans which are available in the 12″ size and a smaller 8″ size. Very healthy to cook in cast iron, just takes a while to get used to as you can't wash the pans!
I couldn't leave with out indulging my sweet tooth and lucky for me Ben from Heimat was there with his phenomenal Deep Dark Chocolate Pudding! If you haven't tried it, its worth it just to track Ben down and buy one small pot. His nut spreads are also amazing. We have the Chocolate Hazelnut spread at home – its far better than Nutella!
Last but not least, I indulged in a Twist juice called Guilty Passion (passion fruit, carrot, banana, pineapple, lime and honey) – Yum!!!! Always a pleasure to chat to owner Michael Riley who is full of smiles and energy. I love how they have a collection point in front of their stall for recycled bottles. Very eco friendly and efficient!
Other vendors include Absolute Fit Food, Yogi Dairy, Olives & More and Radiance Whole Foods.
Joining a new burst of new Farmer's and Foodie markets, this market is a welcome addition in a lovely setting. The Spring Epicurean Market will take place on the last Sunday of every month from 8 a.m. to midday.