Thai Sabai by Khao Kho Talaypu
I discovered the existence of this organic gem while browsing through my friend Dwight's Eating Thai Food website. He posted a review of Thai Sabai a few months ago and ever since then I have been looking forward to checking it out, and sure enough, it didn't disappoint.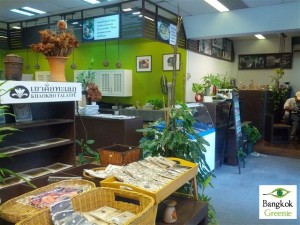 My friend Samara and I head down to Meng Chai (เหม่งจ๋าย) to find this hidden oasis. Located just past the Thailand Cultural Center directly opposite the Siam Niramit in a gas station we found the leafy eatery. Spa music was playing on speakers on the outside. We walked in and were greeted by the beautiful smells of their cold pressed oils. I didn't realise but they also stock Khao Kho Talaypu's full range of organic products from soaps and teas to organic cotton clothing and even Thai eco magazines and publications. I was in organic green love!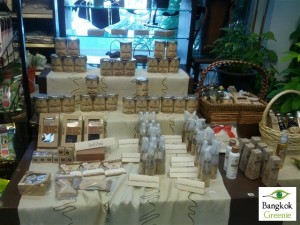 For those of you who have never heard of Khao Kho Talaypu (เขาค้อทะเลภู), it is an ACT IFOAM certified organic farm located in Petchabun. They have an organic farm, a factory where they produce all their body and food products, and best of all an organic resort. How does Thai Sabai fit into all this? Thai Sabai is owned by a lovely lady (whose name I regretfully can't remember) who is family friends with the owner of the Khao Kho Talaypu farm. She uses produce and products from the organic farm to cook up her amazing menu of vegetarian, vegan and pescatarian dishes. She also stocks the full range of Khao Kho Talaypu (เขาค้อทะเลภู) products in the store section of the restaurant and runs a spa on the 2nd floor of the restaurant which uses organic oils and compresses from the farm as well. It is very reasonably priced. It is an organic haven in Bangkok. I could spend my entire day, shopping, eating, getting spa treatments at Thai Sabai.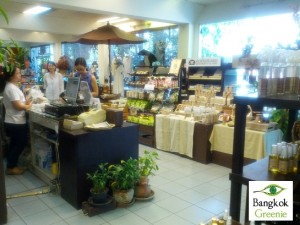 The day Samara and I went, we were very lucky that the owner was there. She took us through the store, walking us through all the products. She is very knowledgeable on everything in the store and was so happy to show us around. I admired her plants, so she offered to source me my own beautiful organic stevia and peppermint plants. Amazing. I know have my own organic stevia and peppermint. (NB: She's the smiling lady in white in the photo on the left hand side.)
The restaurant itself is nestled in a corner of the store. Its very quiet and leafy. We were the only patrons as it was a little after peak lunch time. We looked at the menu and wanted to order everything. They have lots of vegan and vegetarian items, but they also serve dishes with organic eggs and sustainable fish. We settled on a menu of Deep Fried Tofu with Tamarind sauce (เต้าหู้ทอดราดซอสมะขาม), Stir Fried Rice with Mackerel, Shrimp Paste and Eggs (ข้าวผัดน้ำพริกกะปิเนื้อปลาทูไข่เจียว), Vegetables in a T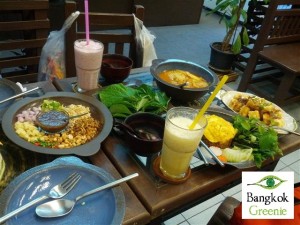 amarind Curry (แกงส้มผักรวม), Mieng Kham (เมี่ยงคำ) and Deep fried pumpkin and mushroom dumpling (เกี๊ยวเห็ดและฟักทอง). Yes, thats a lot of food for two young ladies, but, we had to try a smorgasbord! And lets not forget the amazing smoothies (Blueberry & Ginger and Honey) that were super refreshing.
Dwight had pre-warned me that food can take some time especially during busy periods, but luckily Samara and I had a lot of talk about so time flew by and the food appeared. As we expected, the food was delicious.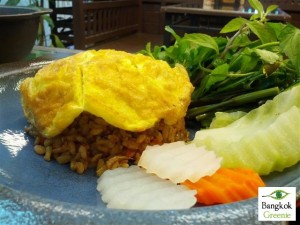 The fried rice arrived with a selection of herbs. The owner came up and explained to us that the herbs were to be taken in a certain order to increase benefit and enjoyment, the only thing I remember is, 'end with stevia' and wow was that amazing. That hit of sweetness after that spicy meal. Perfect!
The Mieng Khum was beyond words. The platter includes chili, lime, dried shrimp, onion, unripe banana, peanuts, roasted coconut and a sticky tamarind sauce. Served with a fresh, crisp leaf, which you use to stuff a bit of all that good stuff into. It is an amazing ex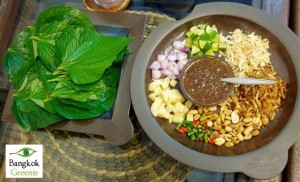 plosion of sweet, tangy, spicy, and sour.
Samara's favourite was the Tofu with Tamarind Sauce. The Tofu was melt in your mouth and the tamarind sauce was the perfect balance of sweet and tang.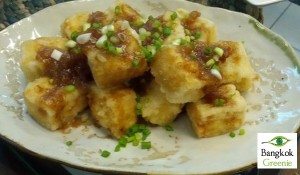 I have a sweet tooth so couldn't resist sticking my head in their ice cream freezer. Their ice crea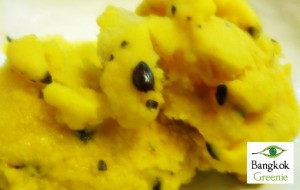 m is organic and delivered straight from the farm. The only flavour remaining was passionfruit, so we decided to indulge. It was amazingly refreshing. Looking forward to trying more flavours next time we visit.
Overall, Thai Sabai is a wonderful place to go for a leisurely relaxing lunch. The service can be slow if there are a lot of customers, but the food is great and worth the wait! And best of all its certified organic and very reasonab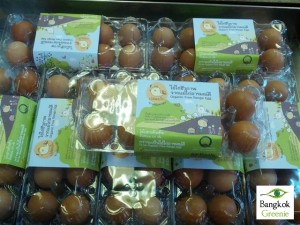 ly priced. The menu items range from 80-120 baht which can't be beaten anywhere in Bangkok for a certified organic meal. If you have time, book a massage before lunch, they use organic oils and compresses. And don't forget to browse the organic Khao Kho Talaypu products. They have a wonderful selection of organic teas and essential oils that I love! They also sell organic eggs and fruits and veges straight from the Khao Kho Talaypu (เขาค้อทะเลภู) farm, which is ACT IFOAM certified organic. And last but not least have a small selection of cotton clothes and home wares made from organic cotton and dyed with vegetable dye.
Green Rating: 5/5 on the green-o-meter. Delicious certified organic Thai food. Even their eggs are certified organic. Highly recommended. It was like a dream come true.
Thai Sabai by Khao Kho Talaypu | 38 Tiam Ruammit Rd., Huai Khwang,  Bangkok | Hours: Daily, 11am-8pm | Ph: +662-246-1397 ext.9| $-$$