Twist Smoothies, Juices & More
Who are Twist Smoothies, Juices & More?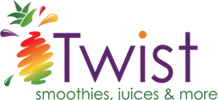 Twist specialises in real fruit smoothies and juices. No artificial flavours, colours, preservatives, chemicals, dairy, sugar or syrup. They also sell organic fair trade coffee, organic tea and gluten free baked goodies! Their flagship store is located in Nichada Club, and for us city folk they also make appearances at various sports events and the monthly Spring Epicurean Market.
Bangkok Greenie interviewed Michael Riley, who co-founded the company in early 2007 and is now a Managing Partner. Find out more about why they started this company and what makes Twist Juices stand out in the Bangkok Juice arena.

Interview with Michael Riley
1. What was your motivation to start Twist?
My shareholders and I all spent our young adult years in Southern California (but we all met in Thailand).  We all missed the selection of quick but healthy drinks and snacks that were so easy to find back in So. Cal. Hence, Twist was started out of a desire to have what we could not find here in Thailand; truly healthy smoothies, juices and foods.
2. There are many juicers in Bangkok at the moment, what do you think sets you apart, makes you shine in the juice arena?
Since we started back in 2007, we have been committed to using real fruits and veggies, no concentrates, no fillers, no syrups … in short, no junk!! We have a huge menu of drinks (over 40) and a nice selection of gluten free bakery as well as a developing range of sandwich wraps.
When we started bottling a few years ago, we wanted to deliver the same quality in a bottle that people had come to expect when they visit our store or see us at events.  I was lucky enough to have help from a chef / food scientist who shared the Twist vision and we created the bottled line you now see at the Spring Epicurean Market and Bangkok's leading cafes / sports clubs.
What's in the bottle is exactly what you see on the label; unfiltered, unpasteurized, pure juice.
3. What do you think about the raw food movement?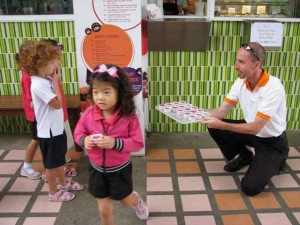 I'm a fan.  I believe that there are health benefits from eating less processed foods. I try to eat raw foods daily but I've not been able to wean myself completely off of cooked foods. We just launched a Cranberry Almond Bar that is Raw, Vegan and Paleo … not to mention delicious!
4. Where do you get your juice ingredients from?
Our buyers go to the wholesale markets and buy from the farmers or their representatives; the only way to get fresher produce is if we went and picked it off the farm ourselves!
The passion fruit comes from one of the king's projects; we buy their frozen puree … but it's 100% passion fruit, NO sugar / syrup or anything else added.
Our honey comes from a regional bee keeper; it's wild flower honey and we use that in the smoothies and baked goods.
The tea is organic and comes from Northern Thailand while the coffee we offer is organic / fair-trade from Laos.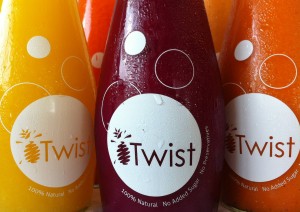 5. Are your fruits and veges organic?  
I wish!  I would love to buy everything organic but the organic supply chain here is still developing and I have yet to find someone who can consistently supply us with the quantities needed and at a price point that won't put us out of biz. 
Organic produce is also very seasonal here. Quick example, one of the organic suppliers offered us organic watermelon. The problem is that organic watermelon is only available about three months of the year and we have watermelon on the menu everyday, twelve months of the year.
We do buy organic when we can.  For example, we always buy organic kale for our green smoothie and if the buyers find things in the market that they believe to be organic … and at a price point we can absorb … then we buy organic.  But I avoid saying we're organic because of the inconsistent supply.
The exception to that is the tea and coffee we serve as those come from producers who are certified organic. Same for the wheatgrass and stevia that we offer, both organic. In our next store I hope to have a more flexible menu design that will allow for both a permanent menu and a seasonal menu (i.e. Organic).
5. What are the juice bottles made of?
For our bottled juices we use glass bottles. Yes, they are more expensive than plastic but glass is far more eco-responsible and, I believe, better for our health.
6. Do you have a recycling program for your bottles?
Yes, we bring bottles back from events and the cafes / clubs we supply. The bottles get separated into two piles:
a) Bottles that can be cleaned, sterilized and reused
b) Bottles that need to go straight to the recycling centre
If option b, the staff can keep any money 'earned' from the selling of used bottles.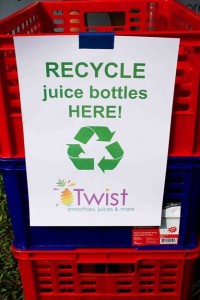 7. At the Spring Epicurean Market, I have seen you use bio plastic cups for your juices that have been blended with spirulina. Can you please tell me more about those?
Customers that visit our store or see us at events will get their smoothies, juices, ice tea & ice coffee in clear cups that are made from plants, not oil. They are compostable, non-toxic and require less energy to produce.
There are factories all over the globe that produce bio plastics and supply small businesses like Twist and massive companies like Walmart.  As with organic fruit supplies, maturity of the local market is important.  I currently get our cups from a factory in Taiwan. The market there is very mature because years ago the Taiwanese government passed laws that required all the quick serve chains (Starbucks, McD's, etc.) and grocery take-away counters to use bio plastics.
The bio plastic market here is barely in it's infancy because there are no laws mandating a shift to bio plastics AND petroleum based plastics are VERY cheap here. There is hope, however, as a few clear cup producers are now testing the bio resins and, hopefully, we should have local clear cup production within the year.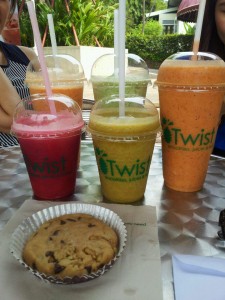 As a result of  our search for green packing for Twist, we not only use eco friendly packaging but we also supply bio packaging to other businesses.  We currently supply one school and are in talks with another as well as a few chains here in Thailand.  The current goal is to offer more than just clear cups. I've been talking with a Korean supplier who produces food packaging made with the bio resins and also hot cups (paper cups) lined with the bio resin.
The paper-cups you currently see in the marketplace are lined with petroleum based plastic, making those cups non recyclable and not compostable.  The cups we will bring in from Korea will be compostable. And the lids will be bio plastic … no more drinking hot beverages through a toxic plastic lid!
8. How do you manage your juice waste? i.e. by-products of juice making process.
Occasionally the staff takes the waste for use in a garden but, sadly, most of the produce waste ends up in landfill.
I would gladly give all the produce waste to anyone able to collect it daily. If you have a big garden or composting operation, please come take our pulp, skins and peels!!!
9. If you had to rate your Juice business on a scale of 1-5 where 1 is the least Eco-friendly, and 5 is the most Eco-friendly, how would you rate your juice and why?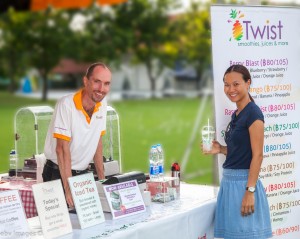 I would give us a 4 rating, I'll increase that to 4.5 once we are using compostable trash bags and take away bags (in discussions with a Korean producer now).
Eco-responsibility is a focus at Twist; yes, some of our packaging choices are more expensive or harder to find but they are the responsible choices for the environment.
We discourage the use of take-away bags and, as noted above, our cups are made from plants, not oil.  The straws are also compostable and the napkins are made from 100% recycled and unbleached fibres.
For food takeaway, we use aluminium foil (easy to recycle) or bagasse boxes (compostable). For hot coffee we also use bagasse cups.
Cleaning is with non-toxic, eco-safe soaps and we even found a non-toxic pest control solution (Canaan Service). The spray is lemongrass based and works really well. (thanks to the folks at Raitong Organics for connecting us to Canaan).
To reduce our electrical usage we had an energy audit, including infrared imaging. Subsequent repairs and adjustments have lowered our monthly electric bill.
10. Tell us about your future plans.
We are discussing ways to expand the bottling process while maintaining the quality. We have had some very encouraging meetings in recent weeks with equipment suppliers and potential landlords.  Stay tuned for more developments!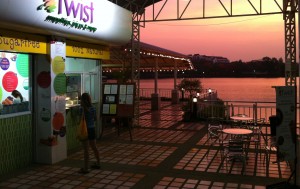 Likewise, we should have a Twist shop open in Thonglor around the middle of 2015.  Demolition of existing structures has already begun and the project developer expects to break ground in the coming weeks.
In the meantime, Twist fans can come see us at the monthly Spring Epicurean Market (last Sunday of the month) or get the bottles delivered to your door via Radiance Whole Foods. If you're out and about town you can also enjoy our juices at: Bkk Bagel, Brooklyn Baker, Chu, El Osito, Mikkeller, Roast and V-Café (Virgin Actve).
11. What is your personal favourite juice that you offer?
A frequent question and one that remains difficult to answer as I truly like all of our juices and smoothies. For juices, I will always have a soft spot for Velvet Express; the bold colour, sweet, sour & earthy flavour profile … and it was created by my wife! For smoothies, Tropical Mango Tango is a great option to help rehydrate during these hot summer days (banana and coconut are both excellent for replenishing electrolytes).
Bangkok Greenie's Rating
Michael Riley has been completely open and honest in this interview. Any question I threw at him, he replied with complete transparency, which makes me trust their products. Twist is my personal favourite juice provider in Bangkok. May be its partially because Michael Riley is so happy and smiley, but its also because their juices are great and their practices are eco friendly! Michael also has another side business as a supplier of bio plastic cups.
Green Rating: 4/5 on the green-o-meter. Twist are very eco responsible when it comes to their packaging choices. Their cups are bio plastic (made from plants) and thus completely bio degradable. Their straws are also compostable and their napkins  made from 100% recycled and unbleached fibres. They use a non-toxic pest control solution called Canaan Service which is very responsible. They have a bottle recycling program which is effective and well underway. These measures really make them stand out in the green pasture. As for not being organic, I understand the challenges Twist faces as the organic supply chain is still in its infancy which makes it hard for him to go completely organic. While Twist is not organic, it is evident that they are buying good local produce for their juices. Future plans include moving to locally supplied bio plastics and using compostable trash bags and may be one day going organic!
** Opinions are Bangkok Greenie's own. Note this rating does not rate their juice, nor their service, it is purely a rating of how eco friendly, organic their business is. Rating given in April 2014.
For more information on Twist Smoothies, Juices & more, visit their website or contact them directly.

W: https://www.facebook.com/Twist.smoothies.juices.and.more
P: +66 02 911 6839
E: michael@twist-juices.com