The Fermentation Bug has bitten me! With a few water kefir grains gifted to me by an expert local fermenter Halima Andrasi, I started my kefir journey a few months ago and it has changed my life. More about how amazing kefir is in another article. For now, I wanted to share a straight forward Water Kefir Recipe for those of you who have been gifted some grains and want to get going.
Water Kefir (WK) Recipe
First Ferment
Ingredients:
3 Tablespoons Water Kefir Grains
3 Tablespoons Sugar (Brown Cane Sugar, Organic if possible)
3 Cups Water (Halima uses Bottled Mineral, I use Carbon Filtered Tap)
If using filtered water, you can add these additional ingredients to help re-mineralise the water:
1/4 tsp of Himalayan or Inca Salt (Mineral Rich Salt)
1/4 tsp of Unsulphured Molasses (Organic if possible)
Equipment:
Glass Vessel for 1st Ferment with a broad mouth (e.g. Glass water jug)
Plastic/Silicon Tablespoon
Plastic/Wooden Mixing Spoon
Unbleached Paper Towel , Muslin Cloth or Coffee Filter
Piece of string or Rubber band
Plastic/Nylon Sieve
Plastic Funnel
1L bottle for 2nd Ferment – this can be a Fido Bottle or any other airtight bottle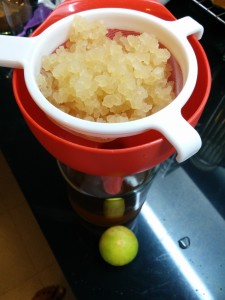 NB: Glass Vessel used for fermenting is different from the one used for storage, it has a wider mouth as its more difficult to pour water with grains out of a small mouthed bottle. They get stuck!
Method:
FIRST FERMENT
Put water and sugar in Glass Vessel for 1st Ferment and stir so that they are mixed in well together. (If adding salt or molasses, add now and stir in.)
Finally, add the Water Kefir Grains.
Cover with an Unbleached Paper Towel/Muslin Cloth/Coffee Filter and secure with a piece of string or a rubber band.
Leave to Ferment in a dark cool place or wrap around the vessel with kitchen towel and keep on the counter in cool place. Some people put the vessel on top of their fridges (so when opening and closing the fridge, the vessel shakes, and kefir grains like to be shaken once in a while), so go ahead shake the vessel every time you pass by it.
Fermentation time:
16 to 24 Hours (depending on the temperature in your home)

Storing the Grains.

After 16 to 24 Hours, it's time to take the grains out!

Straining the WK. Place the funnel over your 2nd Ferment bottle and the sieve on top of the funnel. Pour the contents of your glass vessel into your airtight bottle.The Water Kefir Grains will be left behind in the sieve.
Storing the grains. Place the Water Kefir grains in a glass jar with some sugar water, close the lid loosely and place the jar in your fridge for storage.
SECOND FERMENT
Option 1: Water Kefir Lemonade
For a simple Water Kefir Lemonade, you can just squeeze in half a lemon or lime (equal to about 2 tbsp of lemon/lime juice) into the bottle with your water kefir, close the airtight lid and pop it into the fridge for a few hours to chill. And voila it's ready to drink!
Option 2: Water Kefir Passion Fruit Pop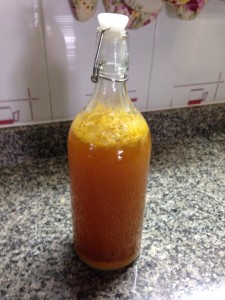 If you would like to experiment with a more fancy 2nd ferment, you can use, fresh or dried fruits, a fruit puree or juice.
For this recipe, we will use 1/4 cup of passion fruit pulp. Grab 4 to 6 passion fruit and take out the pulp and seeds. Pass this through a sieve so you are left with only lovely yellow passion pulp. (We don't want the seeds.)
Using the funnel pour in 1/4 cup of passion fruit pulp into the airtight bottle straight into the water kefir. Close the airtight lid. Place it back in the same spot that you chose for your first ferment.
2nd Fermentation time: 6 Hours (Bangkok Heat is quite intense. You can leave it up to 12 H but be careful of the amount of fizz it generates.). If opting for 12 H 2nd Ferment please burp the bottle every 6 hours or so.
After 6 to 12 Hours, burp it first before putting the bottle in the fridge. Let it chill for a while, then enjoy your cold WK Passion Fruit Pop! While in the fridge burp once a day if not drinking the kefir that day.
If you would like more information on all things fermentation in Bangkok, you can join https://www.facebook.com/groups/bkkfermentation/ Bangkok Fermentation Group on Facebook! Happy Fermenting.